Candidate In Clive Palmer's Party Reveals Himself To Be A 'Vaccine Questioner'
When you're standing for public office in Australia you'd think you'd do your research when spruiking your ideas or policies.
Well, it seems like some candidates running for the federal election this year aren't exactly sold on that idea and are using social media to say whatever they want.
Alexander Stewart, the United Australia Party candidate in the NSW seat of Cowper has posted a message on his Facebook, which has now been deleted, where he questioned the benefits of vaccines.
According to the Sydney Morning Herald, Mr Stewart is concerned about 'the incomplete scientific analysis of the risk versus the benefits' of getting the standard jabs.
That's a strange position to take considering vaccines are some of the most studied practices in the medical field.
They've been tested, tried, studied, researched again and again to ensure that the people who are being injected don't come off second best to an avoidable disease or illness.
Mr Stewart revealed that his children aren't vaccinated however he was miraculously able to cure their whopping cough in less than two days with bulk doses of vitamin C.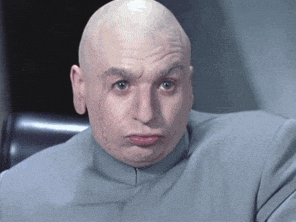 Image result for right dr evil gif

His Facebook post read: "What I am saying is that we need to ask questions. Mere effectiveness is not good enough in the public arena...we need to consider the side effects.
"In the UK there is a society of vaccine-damaged children...that's just a fact. I'm not saying don't have vaccination, I'm saying let us evaluate scientifically whether the benefits outweigh the non-zero risk that a vaccine will kill or damage my child.

"If you want me to remove the weeds from my garden, one option is to use a nuclear weapon. Yeah it would remove the weeds from the garden, but it would have a lot of consequences."
According to the UK's National Health Service, common vaccine side effects include pain, swelling and redness around the injection site, a high temperature, shivering, extreme tiredness, a headache and muscle and joint pain.
Sure, that doesn't sound like fun but when you weigh that up against infertility, brain damage and death as side effects of the diseases and illness these vaccines try to prevent then it's a pretty easy position to take.
United Australia Party spokesperson Andrew Crook told the SMH: "The United Australia Party hasn't finalised a position on this at this stage."
When pressed on that statement, Mr Crook confirmed that the party didn't have a position on vaccines in general. How in the hell do we have a party, which the Coalition has made a preference deal with, not know whether it believes in vaccines in 2019.
It's beggars belief why you'd even try to question it on the national stage considering it was nearly political suicide for Pauline Hanson two years ago when she started airing similar questions.
Featured Image Credit: PA