Prince Harry took a dramatic fall off his horse while playing a game of polo in California.
The Duke of Sussex, who was playing at the Santa Barbara Polo and Racquet club yesterday, 12 June, looked to be enjoying himself, right up until he was flung off his horse.
However, as shown in a series of pics, the father-of-two looked to have got back up to his feet pretty quickly after other polo players checked to see if he was alright.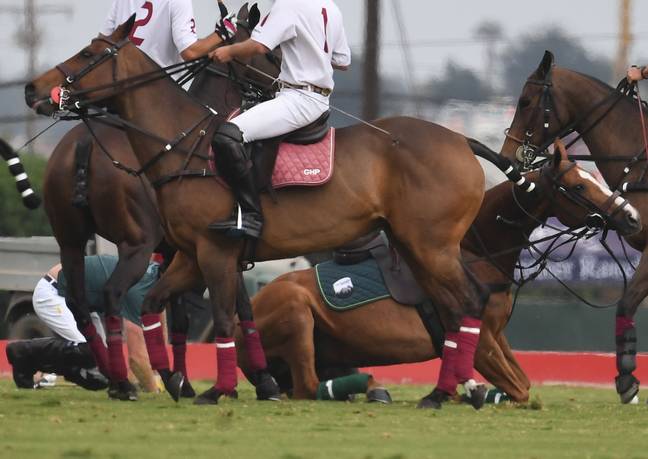 During the match, Harry apparently went through three different horses in a hour, Metro reports, as the sport can be very tiring for the animals.
It didn't get much better for the Prince as his team lost the match 12-11, according to Daily Mail.
That being said, Harry also didn't seem to be too gutted by the result and was seen chatting to mates after the defeat.
Thankfully for Harry, the Duchess of Sussex wasn't there to witness her hubby take a tumble.
Meghan and Harry recently made their first public in the UK since 2020, as they were seen attending the Service of Thanksgiving in St Paul's Cathedral, London.
Their bombshell decision to step down as senior Royals has received a mixed reaction, as they were met by both cheers and boos from the crowd who gathered outside.
Inside the cathedral, Harry and Meghan were seated away from more senior members of the family like Kate and William, and Charles and Camilla.
Commenting on the couple's return, Sharon Osbourne told Piers Morgan on Fox News: "The Royal Family has always been like a Shakespearean play for me.
"I have to tell you when I saw them going in earlier on, I felt sorry for them. And the way that they were parted from the family."
Asked why people should feel sorry for Meghan and Harry, Sharon added: "I do feel sorry for him because I think that there must be a huge part of him that regrets.
"I mean, can you imagine how he felt yesterday with the whole family in that procession and he would have normally been there on one of those horses with his uniform and everything."
Sharon also commented on Prince Harry and Meghan's exclusion from the Buckingham Palace balcony on Thursday (2 June), where the Royals gathered to watch the Jubilee flypast.
Sympathising with the Sussexes, Sharon suggested that Harry might have seen the gathering and thought: "My children are not going to grow up with their cousins.
"It's got to have an effect on you when they don't have any cousins, aunts, uncles."