People have spotted seriously questionable artwork in popular children's book
People are flocking to social media in shock after realising the 'dubious' images within some of their favourite childhood books.
Reading time was my favourite part of school. Gone were the maths equations which never made any sense, replaced instead with a reading corner where you all sat in a circle on chairs - or beanbags if you got super lucky - to go round reading a classic Biff, Chip and Kipper book line-by-line.
However, similar to when you rewatch Disney films like The Little Mermaid as an adult and realise - much to your amusement but also partly horror - the sexual innuendos and adult humour which lies embedded within, aged six I didn't quite clock the more x-rated scenes which may have been occurring while Biff, Chip and Kipper were teaching me how to read.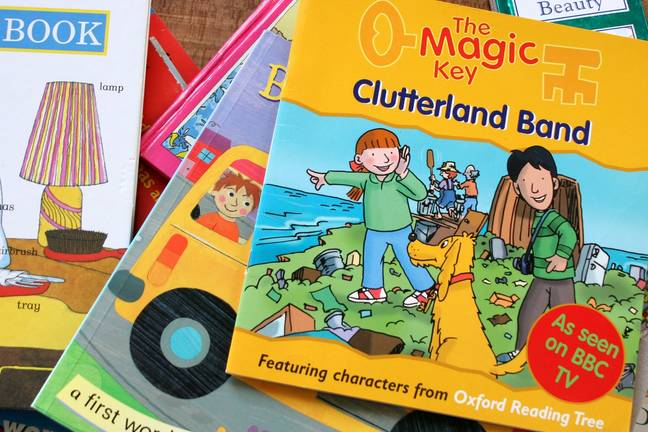 Prepare to never look at Biff, Chip and Kipper books - written by Roderick Hunt - the same again, because lurking in the background of some images within the Oxford Reading Tree series are 'somewhat dubious scenes'.
A Twitter user named Ed Brody shared two images found 'in the background of a friend's 4yo's school book' on the platform.
In the first image, three men can be seen in the background almost concealed by a bush. On the next page, they are no longer there, but in their place is an older woman, her glasses and hat having flown off her face in shock as she stares open-mouthed at something going on behind the bushes.
Let your imagination run wild and do with that information what you will.
Other Twitter users have flocked to the post - later re-shared by No Context Brits - to share their own findings.
One shared an image where building blocks spell out, 'Hepatitis.'
Another posted an image from the Biff, Chip and Kipper series of 'the bloke with the tach in the woods'.
A third shared an image of some clowns from a book they used when their kids 'were learning to read'.
A final shared an image of Floppy from Biff, Chip and Kipper with a man standing in the background in a green jacket, with a side sweep of dark hair and dark moustache looking ominously like Hitler.
Responding to the claims, Oxford University Press told The Independent: "Interesting spot but some of the pages are missing from this title!
"We can reassure you nothing untoward is going on behind that bush.
"We take the utmost care to ensure that our content is age appropriate and would not cause harm or offence to any child who reads our books."
To give Biff, Chip and Kipper books their dues, sometimes reading a bedtime story to your child every night or re-reading the same book 10 times over so a kid can finally learn that one word they've been struggling with properly can all get a bit tiresome.
So if you need to insinuate a bit of hanky-panky in a bush then what's the real harm? Even if it is down to a missing page blunder.