Terrifying Simulation Predicts Tens Of Millions Will Die Within Hours If Nuclear War Breaks Out
The threat of nuclear war loomed and struck fear into the hearts of millions around the globe only just a few decades ago.
Until recently, those fears had faded. But now, as global tensions escalate following Russia's invasion of Ukraine, they are again on people's minds.
Research and mapping done by Princeton University that shows the potential horror of what nuclear war would look like today.
According to Princeton University's Science and Global Security (SGS) program, if nuclear weapons were used then the devastation would reach far and wide, resulting in the deaths of tens of millions of people around the world.
SGS's simulation tried to predict where the weapons would be deployed from, the likely foreign targets and the possible death toll from such an attack.
The research estimated that more than 90 million people would be dead or injured in only the first few hours of conflict.
The research also goes as far as estimating which weapons go to which targets in which order and in which phase of the war, showing the evolution of the initial nuclear attacks, to strategic to city-targeting phases.
SGS researchers project if an all-out nuclear war were to take place between Russia and US-NATO forces, it would begin with a 'nuclear warning shot' - so a single missile is sent to hit a single military base.
Imagination exercise.Princeton University did a simulation of what a nuclear war between Russia and the US would look like. With a ghastly estimate of 90 million victims in the first hours of the conflict alone. Is an atomic war an option? #StopPutinNOW https://t.co/1tC7t5oXyS

— Aiden Yoda 🇺🇦 (@anionscop) March 3, 2022
Once that initial threshold is crossed, things go downhill quickly.
The next step is the 'tactical plan' where warring sides would deploy hundreds of nuclear weapons back and forth.
Russia would send 300 warheads via short-range missiles and airplanes to try to hit NATO bases all over Europe. NATO would then shoot back with 180 of their own nuclear devices.
This phase would last only three hours - but in that time it would cause mass devastation, killing or injuring 2.6 million people.
But the carnage would not end there.
Once Russia has eradicated Europe's military forces, the 'Counterforce plan' would hypothetically begin.
In other words, 600 or so warheads from the US would attack Russia, from both land and sea.
This next stage would only take about 45 minutes, but don't let the short timeframe fool you: the toll on human life would be high, with 3.4 million people dead or maimed in three quarters of an hour.
But wait - there's more. Yes, it does get worse.
Let us introduce you to the final phase: the Countervalue Plan.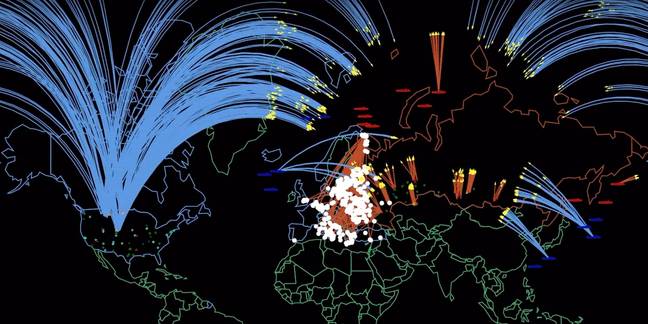 Both NATO and Russia would launch further attacks in order to cripple the enemy by destroying as many resources as possible.
This phase would also see the highest death toll.
Russia and US-NATO allies would target the 30 most populated cities of the enemy, using 5-10 warheads on each city.
Within another 45 minutes, the death toll will swell astronomically - leaving 85.3 million people dead or severely injured.
Incredibly, there still would be some nuclear warheads left over after all this devastation.
All up, these multiple phases would see up to 90 million people killed or injured.
However, SGS's scenario does not include non-US-NATO countries getting involved, so the reality of nuclear war could be even higher than that.
If you would like to donate to the Red Cross Emergency Appeal, which will help provide food, medicines and basic medical supplies, shelter and water to those in Ukraine, click here for more information.