Ricky Gervais New Netflix Standup Criticised By Trans Community Over Controversial Jokes
Ricky Gervais has been slammed for making a number of 'transphobic' jokes in his new comedy special, SuperNature.
The stand-up show dropped on Netflix today (May 24) but already, Gervais has ruffled a few feathers after poking fun at some rather risqué topics which, as we're all aware, is something the comedian is no stranger to.
Just minutes into the Netflix episode, Gervais made comedian Eddie Izzard, who has been openly transgender since 1985, the centre of his joke.
"Eddie Izzard. She's brilliant, isn't she? She's not only a great comedienne, she's also a great actress, isn't she? She was brilliant in that thing as that man," he said.
Gervais added: "Oh, women! Not all women, I mean the old-fashioned ones. The old-fashioned women, the ones with wombs. Those f*****g dinosaurs.
"I love the new women. They're great, aren't they? The new ones we've been seeing lately. The ones with beards and c****.
"They're as good as gold, I love them. And now the old-fashioned ones say, 'Oh, they want to use our toilets'.
"'Why shouldn't they use your toilets?' 'For ladies!' They are ladies — look at their pronouns! What about this person isn't a lady?'
The comedian went on: "'Well, his penis.' 'Her penis, you f*****g bigot!' 'What if he r***s me?' 'What if she r***s you, you f******g TERF wh**e?'"
Gervais then moves on to discuss Kevin Hart's decision to remove himself from the 2018 Oscars ceremony after resurfaced homophobic tweets arose from earlier on in his career.
While continuing to joke about the trans community, the 60-year-old said: "You can't predict what will be offensive in the future. You don't know who the dominant mob will be.
"Like, the worst thing you can say today, get you cancelled on Twitter, death threats, the worst thing you can say today is, 'Women don't have penises,' right?
"Now, no one saw that coming. You won't find a ten year old tweet saying 'Women don't have penises.'
"You know why? We didn't think we f*****g had to!"
People have since slammed the comedian on social media, with one writing: "Ricky Gervais has a new stand up show out on Netflix today. 5 minutes in and he's making jokes about trans women attacking & raping people in public bathrooms.
"To him we exist only as a punchline, a threat, something less than human."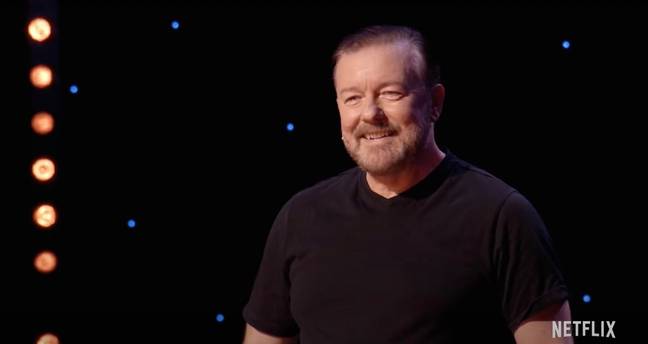 Another added: "Ricky Gervais is a disgrace, he is going to cause hate crime and ultimately the death of Trans folk. Anyone who needs to vilify minorities to get a laugh is the most evil hateful soul and seriously needs mental help."
A third commented: "If you're a comedian and you support trans people it's your responsibility to be speaking out against dave chapelle and the new ricky gervais special. at this point you can't call yourself an ally if you're not publicly taking a stand against it. it's the bare minimum."
Someone else wrote: "It's getting worse this year. Yesterday Parliament had MPs discussing 'the trans question'. Their words! And now today there's Ricky Gervais. Trans people are going to end up getting killed over this. We need international help. A lifeline. Anything."
LADbible have contacted Ricky Gervais' representatives and Netflix for comment.