Robbie Coltrane once threatened to beat up 'f***ing w****r' Piers Morgan
Piers Morgan revealed that Robbie Coltrane once squared up to him in a London restaurant.
We heard the heartbreaking news of the beloved actor's death yesterday, aged 72.
His agent Belinda Wright, confirmed the sad news in a statement: "My client and friend Robbie Coltrane OBE passed away on Friday October 14."
Coltrane, who was best know for his role of Hagrid in the Harry Potter franchise, has an accomplished career spanning decades.
We grew up watching Coltrane and like many admired this giant of a man, whose acting skills saw him earn three BAFTA award for Best Actor, as well as an OBE.
However, Morgan claimed that the actor had once threatened to fight him, with Coltrane calling him a 'f****** w*****'.
As Morgan recounted in his memoir, explaining that while the Cracker actor nearly hit him, he's only even been punched by one celeb: "Now this fact sometimes surprises me: I've been punched by only one celebrity, ever. Despite 20 years of taunting, exposing and mocking famous people, only Jeremy Clarkson has ever actually landed one on me.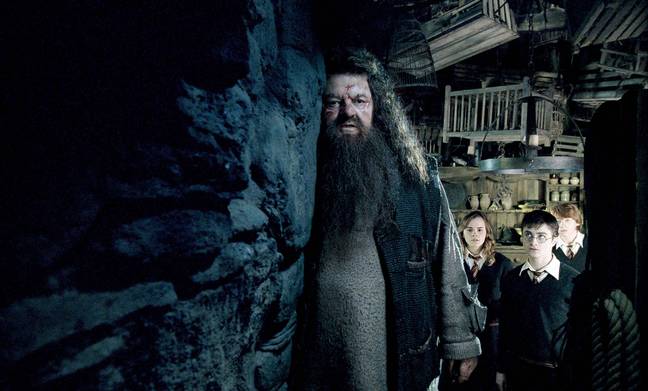 "But at 11.31pm tonight, I was fairly sure I was going to receive my second celebrity fist in the kisser, when Robbie Coltrane stood up in the middle of The Ivy restaurant in London, stared into my eyes with the kind of evil intent that puts Joe Calzaghe to shame and informed me: 'I'll f****** do yer, yer f****** w*****.'
Quite how things got to this stage remains a mystery, as I have never met Mr Coltrane before in my life, and to the best of my memory have never had any run-ins with him on any of the newspapers I have worked on."
Morgan claimed to be a fan of Coltrane's work, calling Cracker a 'brilliant series', and also noted that the two shared a birthday, 30 March. However, the feeling, evidently, wasn't mutual.
The broadcaster continued: "But I feared this admiration society might not be entirely mutual when I was led towards my table and Mr Coltrane, sitting two feet away, greeted my arrival with the words: 'OH F****** HELL! NOT THAT F****** W*****!' I turned to see who he was talking about, and then realised his drooping, inflamed eyes were looking at me."
Morgan tried to introduce himself, which went over horribly: "I stood up and introduced myself. 'I don't think we've met,' I said, offering my hand.
'Don't you f****** come near me,' he responded, his face contorted into blind, eye-popping fury.
'I said don't you f****** come near me if you know what's good for you.'
'What's your problem?' 'You're my f****** problem.' 'Why?' 'F*** off'."
However, the former Good Morning Britain presenter added that his guests were 'highly amused' but also 'perplexed' by the situation.