Sir Rod Stewart Fills Potholes Near His Home Because 'No-One Can Be Bothered To Do It'
Music superstar Sir Rod Stewart came over all civil-minded and decided to fix up his own street after seeing it was full of potholes. You can check out Sir Rod's efforts – and see him explain why – in the video below.
So, the likelihood is that Rod just wanted to send a message to his local council rather than actually fixing up the road, and part of his reasoning was that he simply couldn't get his Ferrari down there easily, but at least he took matters into his own hands, right?
It's hardly Band Aid, but the people of that particular part of Harlow in Essex will be glad that someone has now taken notice of the condition of the roads.
Rod filmed himself on his TikTok account standing in the road carrying a shovel and wearing a tracksuit alongside a bunch of lads in a van full of gravel, with the intention of sorting out the – admittedly very badly – potholed road.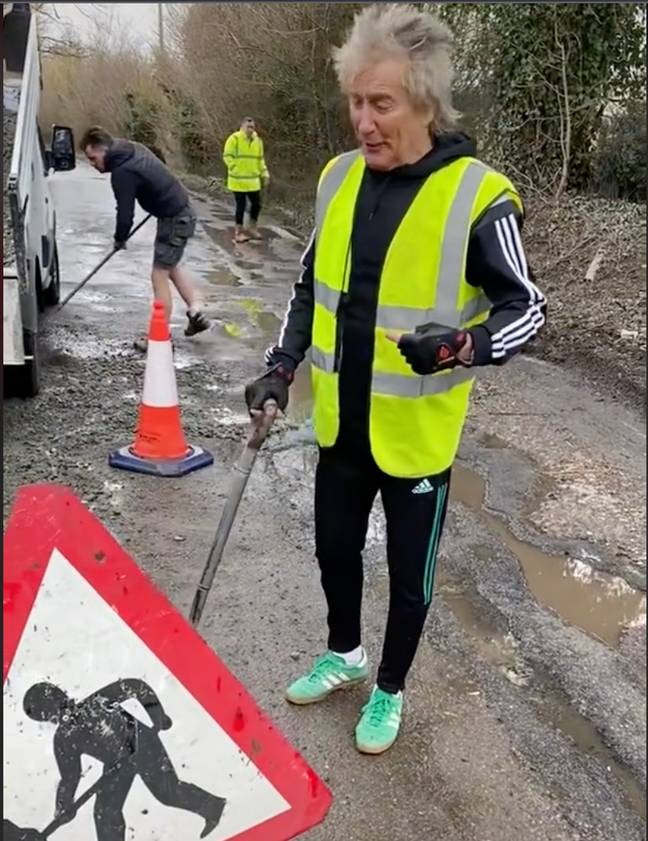 The 77-year-old also posted on Instagram shovelling gravel about as he claimed 'no-one can be bothered to do it'.
"People are bashing their cars up. The other day, there was an ambulance with a burst tyre. My Ferrari can't go through here at all", he said.
OK, it's not the world's largest problem and many won't have a whole heap of sympathy for the artist – who has sold millions of records and probably isn't short of a few quid – but at least he rolled up his sleeves and got out there to take matters into his own hands.
Attired in some fetching in high-vis gear, Rod added: "This is the state of the road near where I live in Harlow and it's been like this for ages.
"So, me and the boys thought we would come and do it ourselves."
His post was captioned: "Working for a living, filling holes is good for the soul!"
Rod's efforts were clearly supported by his daughters Kimberly and Ruby, who commented with heart and clapping emojis, but some remained concerned about him getting hurt, given that they've bought tickets to see him live this summer.
Whilst he still does seem to be in good health, accidents do happen when you're working jobs like this, after all.
Anyway, he seems to have reached the right people, as Lee Scott – the Cabinet Member for highways maintenance at Essex County Council – told BBC News: "This was brought to my attention this morning, and I have asked for an officer report as quickly as possible.
"I will endeavour to rectify it."
So, if you need anything doing in your area, just go out and find your favourite crooner and you'll get the council on it pronto.