Russia Claims To Have Taken The First Major Ukrainian City Since Invasion Began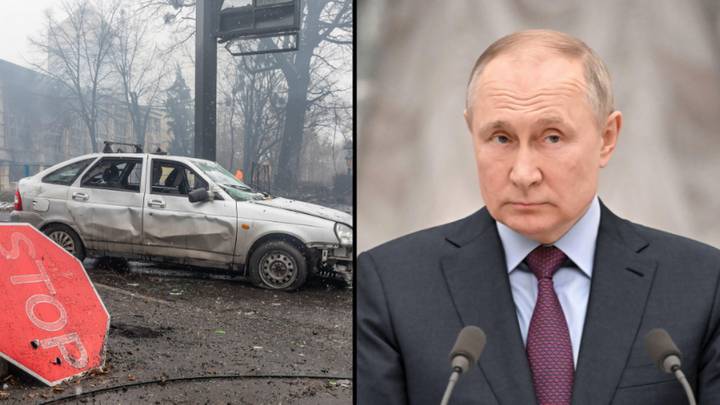 Russia claims they have taken control of Kherson, which - if verified - would make it the first major Ukrainian city to fall into the hands of Putin's armed forces.
Kherson mayor Igor Kolykhayev told Reuters that Russian forces had forced their way into the city council building on Wednesday night, local time.
Russian Defence Ministry spokesman Igor Konashenkov said that the Black Sea port city was now under the 'complete control' of Russian soldiers in televised remarks on Wednesday.
Konashenkov added that while they had taken over the city, civilian infrastructure, facilities, public services, and transport would still operate as normal.
"The city is not experiencing shortages of food and essential goods," he said.
Talks between Russian commanders and Kherson city officials are now underway to maintain order in the city, according to Konashenkov.
However, a senior US defence official told the Associated Press that although Russia claims they have taken control of the port city, the Ukrainian military is rejecting that claim.
"Our view is that Kherson is very much a contested city at this point," the official said, who spoke to AP on the condition of anonymity.
The office of Ukrainian President Volodymyr Zelenskyy has told media that it could not comment on the situation in Kherson while fighting was still underway.
News of the fall of Kherson comes shortly after Zelenskyy called on Ukrainians to keep resisting Russian invaders.
Zelenskyy said Russian forces would 'not one quiet moment'.
In the video, they can be seen careering around the frozen fields of Slatyne, Ukraine, and can be heard celebrating, swearing, and laughing atop the T-80BVM armoured battle tank.
In just seven days we have witnessed the exodus of one million refugees from Ukraine to neighbouring countries.

For many millions more, inside Ukraine, it's time for guns to fall silent, so that life-saving humanitarian assistance can be provided.

— Filippo Grandi (@FilippoGrandi) March 2, 2022
As the invasion enters its seventh day, the United Nations refugee revealed that 1 million people have fled since fighting began.
The UN has now launched coordinated emergency appeals to urgently deliver humanitarian support to those still in Ukraine and refugees in neighbouring countries.
The UN estimates that 12 million people inside Ukraine will need relief and protection, while more than 4 million refugees may need protection and aid in the coming months.