An Australian supermarket which paired Asian groceries and pet food in the same aisle is now doing damage control after a snap of the odd shelf stacking choice made its way online.
In the image shared online, the sign attached to aisle 10 could be seen reading 'Cat food, Dog food, Asian'.
The image sparked outrage on social media, with some calling supermarket giant Coles 'racist' for putting the items together.
Some on social media also noted the aisle behind it with a similarly strange grocery combo - with rice chucked in amongst cleaning products and air freshener.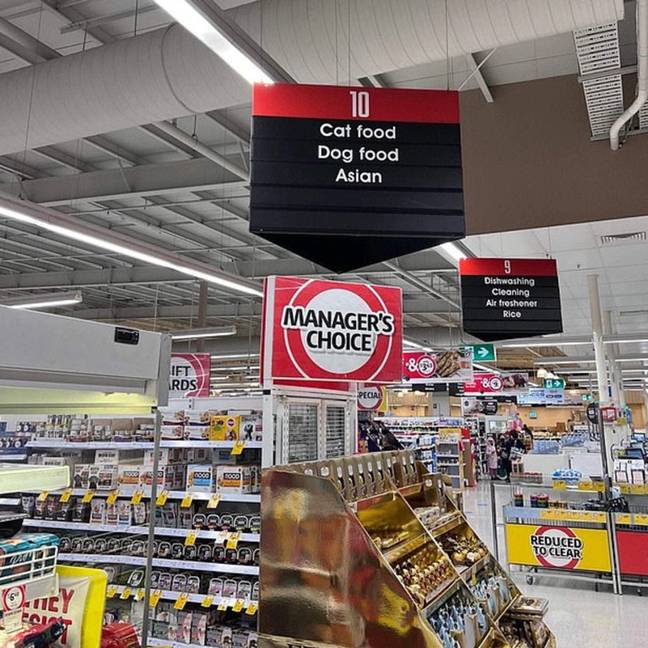 One person commented saying: "Looking at the other isle, it's just as quirky... in a week it'll be different again, they're trying layouts."
A second chimed in, echoing the explanation for the odd pairing: "It's pretty clever if you want customers to use every aisle."
However, other people on social media said this likely wasn't deliberate.
A user on Reddit wrote: "It's an assumption to play racist card, more than likely it's probably just oversight."
The most popular reasoning social media users could come up with was that the store may be undergoing some sort of update that required stock to be temporarily moved.
"Are they in the process of rearranging the store? My local Woolies is being updated and has a few wacky aisle combos at the moment," one person commented.
"Yeah, seems like the part of the store where they have rice and Asian food together is out of commission or being renovated," a second added.
A sign that has prompted the online fury has now been changed and a Coles spokesperson has explained that with more than 800 supermarkets across Australia, layouts differ across stores.
"While we would typically aim to ensure special ranges, such as Asian or other international foods, are located within the grocery section. In some smaller stores or where aisles are split, they may be found in a different area," they told news.com.au.
"While the signage appears to show pet food and Asian food located next to each other, they are actually in very separate sections."
Featured Image Credit: Reddit. Rafael Ben-Ari / Alamy Stock Photo.
Topics: Australia