A veteran British sniper who has travelled to help Ukrainian forces has said Kyiv will not fall as their tactics are 'absolutely hammering' the Russian military – comparing the defence efforts to the 'Taliban on steroids'.
Shane Matthews, who has completed numerous tours of Iraq and Afghanistan, flew out to Poland and then hitched a lift to Kyiv where he's been helping to train civilians and fortify the city.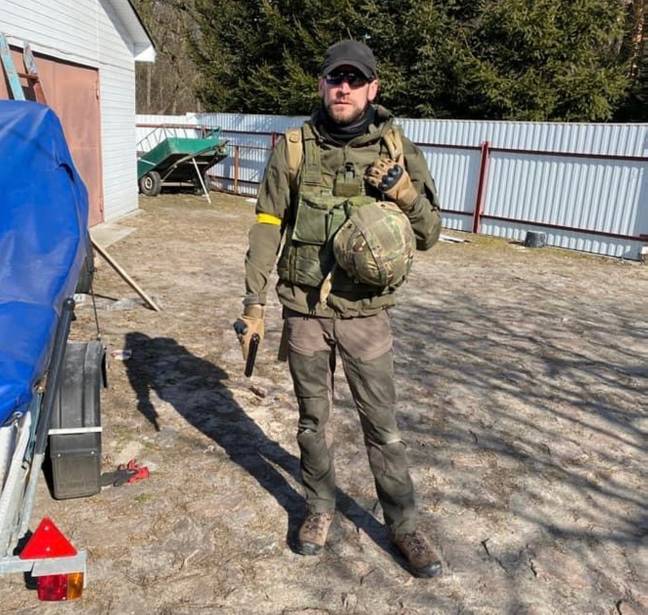 Matthews, 34, said he's witnessed shells 'raining down' and bombs falling 'indiscriminately', hitting churches, schools and bridges – but believes the Ukrainian fighters will succeed.
The experienced sniper, who served as a Lance Corporal with the 2nd Battalion Princess of Wales' Royal Regiment for six years until 2009, has shared photos from the streets of Irpin – a district just to the north-west of Kyiv.
He said: "These photos I have put up are of the 'military targets' being attacked [by the Russians] today – military targets being a church, a two-storey school, a bridge... which was attacked as civilians were evacuating from the city.
"I have just spoken to a chap whose dad was killed two days ago and today in the artillery strike that we were in just now, his son was killed.
"They are indiscriminately shelling every target in this city and the world's just going to sit and watch this? It's wrong – it's a genocide. [They're] war crimes."
Matthews, who is a trained medic, has spent the last few days teaching the fighters how to treat battlefield casualties – including how to stem heavy bleeding and how to treat gunshot wounds.
He will also provide tactical infantry kills to the volunteer forces and said many Ukrainians who are joining the fight were 'brave but unskilled'.
He said: "The Ukrainian artillery absolutely hammered the Russians while I was giving one of my medical lessons.
"Apparently the Russians have got no defensive positions in Irpin so the Ukrainian boys are absolutely hammering them, which is good news."
He added: "On another note, all signs point towards Irpin being pushed through by the Russians – convoy killers in place, everything is fortified to hell and I can safely say that a collapse of the city will not happen.
"The guerrilla-style tactics being employed by the Ukrainians is something you simply cannot defend against, it's like the Taliban on steroids."
Despite the devastation he has seen, Matthews says his decision to head back into war has been vindicated by what he's seen.
He added: "It is war crimes, out and out. It's just reinforcing my perspective on why I am here.'
"I'm absolutely fine here at the moment. I'm in my element, if I'm honest.
"All in, I'm glad I've done it. It's definitely been worth it."
If you would like to donate to the Red Cross Emergency Appeal, which will help provide food, medicines and basic medical supplies, shelter and water to those in Ukraine, click here for more information.