The siblings known as the 'World's Strongest Brothers' have revealed how they went from young lads growing up in the Scottish Highlands to the towering strongmen they are today.
Last month, Tom and Luke Stoltman became the first siblings to make it to the finals of the World's Strongest Man competition - which Tom also went on to win, making him the first ever Scot to gain the title.
Having been brought up in a small town called Invergordon, the two brothers didn't have access to specialist equipment, meaning their path was one of improvisation - often using what their rugged landscape had to offer instead.
Speaking to LADbible, Tom, 27, explained: "Living up in the Highlands, you're limited to what you can have.
"We didn't have any of the specialist equipment that most strongmen gyms have. You'd have to travel to Glasgow or even England to get the good equipment.
"So for my first competition I had not really had any experience. I was just using normal gym equipment - I was using a normal bar instead of a log press to put above my head.

"But I think that makes you train harder as well, because you have to go out looking for equipment. We used to go out looking in the woods or tried to make stuff ourselves.

"I think it just gets you motivated, it gets you the drive as well - even just to do recovery stuff, we'd have to travel two-to-three hours to our nearest physio.
"When everything's on your doorstep you tend to be lazy and not realise what you've got around you.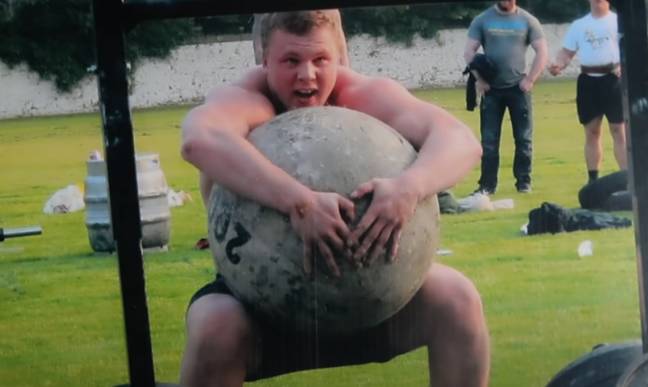 "I think the benefit of growing up here is we've had to work for it, we've had to make do, we've had to invent a lot of stuff."
He added: "We'd basically just go out into the woods for a log, and be like, 'I'll take this back to the gym!'"
These days, the brothers have a slightly more professional set-up but still have to put the graft in, with Tom saying he tends to train five days a week - a mixture of lifting sessions, HIIT (High Intensity Interval Training) and specific strongman training.
He admitted he used to train seven days a week but eventually found it was counter-productive, and that he wasn't getting any 'bigger' or 'stronger'.
"I always have the weekends off just to chill and reset - that's the best way it's worked for me," Tom continued.

"It just means I stay away from my gym, I spend time with my family and stuff. Five days a week's usually what I train - no less than four, no more than five.

"Monday's usually a deadlift session - so a back session.
"Tuesday would be upper body - like the pressing kind of sessions.
"Wednesday's an active recovery day, so Wednesday's the HIIT session, plus then I have physio on top of that as well, and then I'll go for a walk - that's the active recovery.
"And then Thursday would be legs and Friday would be my Strongman day, so that's where if I've got a competition I need to do specific events, I'll do all of that on a Friday."
Tom added: "My normal gym sessions last about an hour and a half/two hours, but then the strongman session lasts between four and five hours usually. So it's a big, big difference in training sessions.
"I always thought training six days a week would be the best, and tried to do body parts twice, but then I just started getting too sore every day and was like, 'I hate going to the gym.' I hated everything about it.
"That's why I started trying to find the balance to get my life and gym the same."
While Tom consumes around 13,000 calories a day in the lead-up to a competition, usually he eats a lot less - although it's still more than the average adult male, whose recommended daily intake is around 2,500 calories.
"Now I'm back to normal, my goal is about 8,000 calories - it's still a lot for a normal person but that's what my body needs to maintain," he said, adding that the food also tends to be a lot 'healthier' by comparison.
Tom continued: "Well, I wouldn't say 10 fried eggs is healthy, but that's what my morning is, 10 fried eggs, some toast, sausage, and then after that, that's when it's healthier food.
"I have a snack in the mid morning, it'll just be a shake and fruit, and then lunch would be like 400g of any kind of meat I want - steaks, chicken, whatever meat I'm feeling like having - I'll have that with 400g of rice or a large baked potato.
"That's the same as dinner time, but in between lunch and dinner, it will be another wee snack - so I could either have another protein shake or I could have oat bars as well as carbs.
"And then I'll have a pre-bed snack as well which is usually just fruit. So you know during the week when I'm not before a comp, I am 90 percent healthy."
You'd probably expect the brothers to have a certain level of competitiveness, given the industry and the nature of sibling rivalry.
However, Tom said his relationship with Luke could not be closer.
"If there was no Luke, there would be no me; if there was no me, there would be no Luke," he said.
"We're not hugely competitive, we want the best for each other. This year at World's Strongest Man, he got to the final as well and came seventh, but then he was also wanting me to win, so after his event he would come over and psych me up.
"He's always supporting me, he's always got my back. Luke has been like that since day one for me.
"We have that advantage, I think - we're brothers and we're going there as a package, whereas other athletes are going there separately, so we can obviously thrive off each other's energy.
"We do a lot of mind games and just have some fun - we bring a lot of energy to the table, so if we're bouncing around, talking and laughing, other athletes see that and they get a bit kind of intimidated - these guys are up for it. We can use it to our advantage a lot as well."

Featured Image Credit: Instagram/Tom Stoltman/Stoltman Family
Topics: SPORT, Bodybuilder