A decade ago, Sean had the life many of us can only dream of. As a rigger in the live music industry, he travelled the world with the likes of U2 and Bon Jovi, setting up stages and sound systems for huge crowds at some of the globe's greatest venues.
But overnight his livelihood was taken away from him.
He was diagnosed with multiple sclerosis in 2012 and without a regular income, was left using food banks for a number of years.
"I can't afford gas, so I haven't had gas now for the past three years. I didn't have any heating over Christmas," he says.
"I've got a little electric heater in one room and I go to the leisure centre to have a shower. I don't use the gas in my house anymore because I can't afford it. It's hell."
The 58-year-old now volunteers at Lewisham food bank and says life is a struggle for many people like him - with no signs of the situation improving.
Food banks in the UK are in crisis - and fear they may not be able to help the growing demand from people in desperate need.
In the past year, more than 2.1 million emergency food parcels were handed out to those on the very edge, who are forced to rely on the kindness of strangers to survive.
But it's not just food, centres also offer the very basics that most of us take for granted, from deodorant and toothpaste to tampons, toilet roll and nappies.
According to The Trussell Trust, between April and September 2021, centres handed out around 5,100 emergency packages every day - up 75 percent on the same period five years earlier.
And this year, charities are expecting to see record numbers in need as the cost of living crisis takes hold.
"It's horrible, the amount of people coming now compared to what it was like," Sean says.
"Every single week, there are 30 or 40 people lined up outside looking to get donations. And I don't understand where they are going to come."
Figures released by the Office for National Statistics last week showed that 23 percent of Brits say they are struggling to pay their bills, up from 17 percent last November.
Simply put, more and more people are having to tighten their belts, leading to a shortage in donations to food banks - yet millions are turning to them for help.
Sean says he doesn't receive the necessary benefits because he says he's apparently 'not disabled enough'.
And with each week seeing him further and further in debt, he doesn't know what to do.
"It's getting worse now with the rent increases and fuel costs; I'm £1,400 in arrears for my rent now and I don't know how I'm going to pay that. I have no idea," he tells us.
"I get hardly any money anyway. I have to pay an extra £40 for my rent because the housing benefit doesn't cover it.
"It's just every single week, there's another bill that arrives, and it just pushes me further and further in s**t. And if it wasn't for the food banks, I would be stuck."
He adds: "Unless you are disabled, there's no way you will understand what it's like to be disabled in this country."
But it's not just people like Sean, who say they have been overlooked by the system for years, who are struggling to make ends meet.
Fuel prices have risen to record levels, while families are having to spend on average an extra £180 a year on their food shop.
And the price energy firms can charge customers has risen by 54 percent, stretching the finances of more than 20 million households even further and forcing many in full-time work to use food banks for the first time.
Anna Maughan is the co-ordinator at Finchley Road food bank in London.
She says the need in her community exploded during the pandemic, but she's scared about what she has been seeing in recent weeks and months.
"Before the pandemic, we were helping around 70 individuals a week," she tells us. "And then things dramatically changed. At the peak, we were helping 420 people.
"More recently, our numbers have almost reached 500 people, so we're seeing up to 15 new families a week attending.
"And we've seen more and more people come in who are working but still struggling."
The Trussell Trust runs a network of 1,200 food banks across the UK.
According to its annual report, there was a 22 percent rise in the number of emergency food parcels handed out in the UK between January and February this year compared to the same period in 2020.
While between April 2021 and March 2022, more than 830,000 parcels were given to children.
Rory Weal, Policy and Public Affairs Manager at the trust, says: "Those two factors - a weakened social security system and extremely high costs - are conspiring to create record levels of need and a real acceleration, which is obviously really pretty concerning for us.
"What we see at food banks is that the level of poverty is so deep that it's more accurately characterised as destitution, and that's really about not being able to afford the absolute basic essentials."
He adds: "It's a crisis on a similar magnitude to what we saw during the pandemic."
Anna says the spiralling cost of energy bills has also changed what kinds of items food banks give out.
She explains: "We're entering a different phase that isn't pandemic related; it's now cost of living related, whether it be food prices or fuel, which are just incredibly expensive.
"We haven't really seen the impact yet in the cost of the rises in electricity and gas, which we're expecting larger numbers because of.
"That means we're really starting to think about the different food stuffs that we give to our clients, so rather than rice and pasta, we want pre-cooked rice or noodles, which you can just add hot water to rather than properly cook."
And with people who may have traditionally donated to food banks having to cut back - and in many cases now turn to them for help - Anna says she and other volunteers are having to ration items.
"In the last month, we've had to cut back on the amount that we're giving people to ensure that we've got enough for everybody," she says.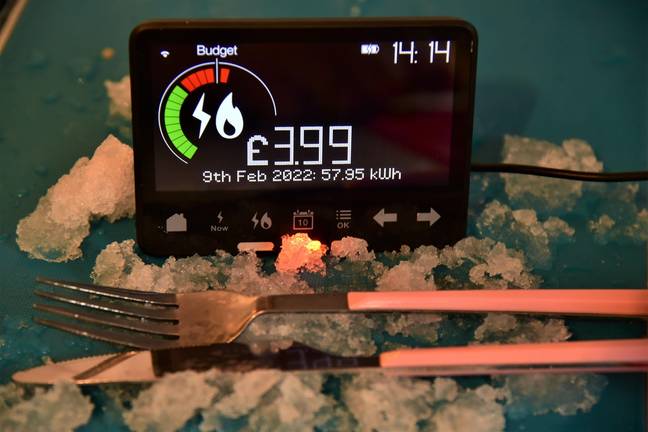 "We're seeing all sorts of people come in. People who used to donate to food banks and never thought that they would be visiting one.
"And that can be very distressing for people, because visiting a food bank isn't a very dignified experience.
"Obviously, we do our very best to make it is a good an experience for everybody, but often, people are very, very worried, and also embarrassed about their situation, and it's such a shame for people to be feeling like that about something that is a basic human right."
Due to the sheer scale of the need, Sean says centres are actually having to cut down their hours, or even close, because they simply cannot meet demand.
And he fears that if nothing is done soon, more will follow.
He warns: "There already are places folding, I know for a fact there are.
"Lewisham Donation Hub are doing food donations at the moment and they don't know whether they can carry on.
"Some of the social supermarkets are getting fewer and fewer donations, so they're having to close down certain days, so they are getting thinner on the ground already.
"And we're only at the start of this, it is going to get worse."
Featured Image Credit: Alamy/Supplied
Topics: UK News