Steve Carell Is Held Hostage By Serial Killer In Intense Trailer For New Series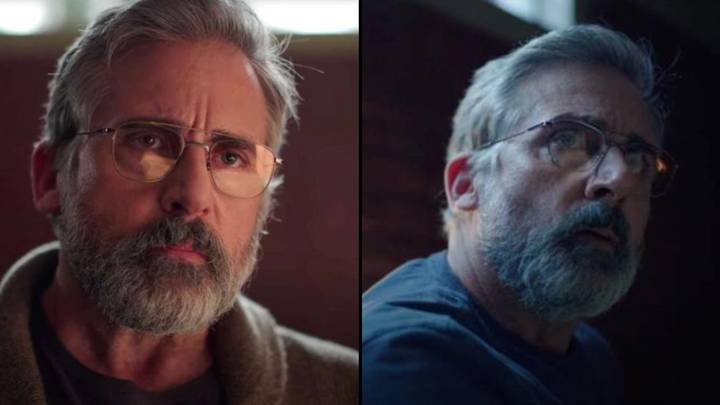 Get ready to call out of the office to watch Steve Carell in his latest role in a killer new thriller.
The trailer for the new psychological thriller The Patient has landed and it sees Steve Carell taking on the role of a therapist who finds himself being held hostage by his patient, who just so happens to be a serial killer.
The 10-episode limited series follows Carell's Alan Strauss as he helps the troubled Sam Fortner (Domhnall Gleeson) navigate some rather complex emotions.
In the trailer, we see Sam telling his therapist about his homicidal urges as it's revealed he is a serial killer.
"I'm not normal. I need to get better," Sam tells Alan, who is struggling with his own issues such as the death of his wife and his relationship with his estranged son.
"Anyone who has come this far who has made the choice to come to therapy and keep hammering away at the hard things: they can be helped,' Alan tells Sam, who seems keen on being 'normal'.
Sam takes his therapist hostage as he attempts to get a handle on his murderous tendencies. Talk about a tough day at the office for Alan! In the words of Michael Scott: "You are as creepy as a real serial killer for real."
The shows synopsis reveals that while he is held hostage, Alan "uncovers not only how deep Sam's compulsion runs, but also how much work he has to do to repair the rift in his own family. With time running out, Alan fights desperately to stop Sam before Alan becomes complicit in Sam's murders or worse — becomes a target himself."
The thriller is a huge contrast from Carell's latest work on the Minions film, The Rise of Gru. The children's favourite hit theatres on 1 July.
Carell is also widely known for his portrayal of Michael Scott in the hit US series of The Office.
Eagle-eyed fans will also note that Gleeson portrayed Bill Weasely in the Harry Potter movies and will no doubt be excited to see him kill it in his new role.
The Patient is written and executive produced by Joel Fields and Joe Weinberg. Joining Carell and Gleeson are Linda Edmond, David Alan Grier, Laura Niemi, Alex Rich, and Andrew Leeds.
The upcoming psychological thriller will be available to stream on Hulu on 30 August.
Featured Image Credit: FX