Storage Wars bidder made life-changing discovery after paying £390 for container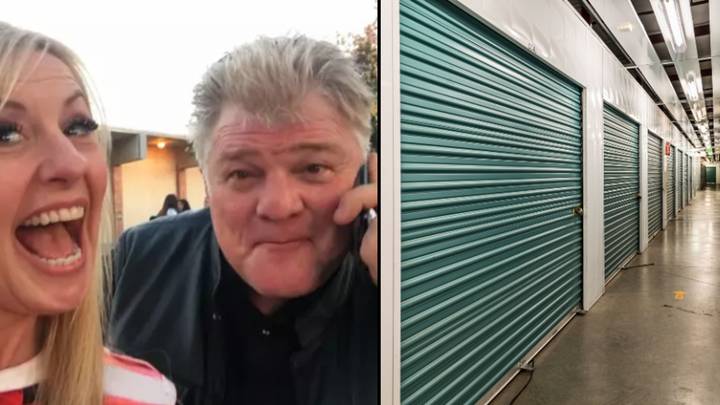 Storage Wars host Dan Dotson has spoken out after one of his buyers made a life-changing discovery, purchasing a £390 storage unit at auction.
Prepare to start hunting for old storage units:
It's fair to say, spending £390 on a storage unit may seem like a lot, but it definitely ended up worth it for this Storage Wars contestant as they made it all - and a hell of a lot more - back from what they discovered hidden inside the unit.
Scrap doing the lottery every week - a storage unit may seem like an unlikely purchase to make, but you never know what you may find.
In a video uploaded to YouTube, Dotson revealed he found out one of his buyers made the jaw-dropping discovery while at a charity event called the Cars, Stars and Rock 'N Roll charity auction in Indio.
The Storage Wars host said: "This lady came to me and she says, 'I'm going to tell you this story, my husband works for a guy and he bought a unit from you and it had a safe in it'.
"And the first person they called to open it I guess couldn't or didn't."
Thankfully, the second person the buyer called was able to open the safe.
Dotson continued: "Inside the safe normally they're empty, but this time it wasn't empty.
"It had $7.5million (£5.8m) cash inside the safe."
Alas, despite striking gold, the Storage Wars buyer wasn't able to simply skip off into the sunset with the jackpot they discovered.
An attorney who supposedly represented the 'folks who lost the money and goods inside the unit' 'mysteriously' called the storage unit purchaser.
The lawyer initially offered the storage unit buyer £465,000 ($600,000) to return the contents of the safe, Dotson told The Blast, however, after the Storage Wars contestant refused, the amount is reported as having been raised to £930,000 ($1.2 million).
The whole debacle has left Dotson baffled. The Storage Wars host said: "I don't think you'd forget it but maybe you were just in a position where somebody else was in charge of it, I don't know."
His wife, and Storage Wars co-star Laura, theorised: "Credit card went bad, it was finished, they moved away, perhaps the person went to jail - who knows what it was."
The pair resolved if they ever stumbled upon a safe-full of money they 'wouldn't ask a damn thing' and would just take the money and run - relatable.
Laura resolved: "This is the modern day treasure hunt."