Porn star Stormy Daniels has record day on Pornhub following Donald Trump arrest
Stormy Daniels has had a record day on Pornhub following Donald Trump's arrest yesterday (4 April).
It is claimed that Trump paid a staggering $130,000 (£114,000) to Daniels during his 2016 presidential election campaign to keep her quiet about their alleged sexual escapades.
The 76-year-old has pleaded not guilty to all 34 charges of falsifying business records.
Manhattan district attorney, Alvin Bragg, issued the statement: "The People of the State of New York allege that Donald J. Trump repeatedly and fraudulently falsified New York business records to conceal crimes that hid damaging information from the voting public during the 2016 presidential election."
She added: "It's definitely more fun being under my sexy man instead of under arrest."
But now, Daniels is making headlines for totally different reasons - namely surrounding her recent sky-rocket on Pornhub after Trump's arrest yesterday.
According to Pornhub Insights, there was a significant boost in searches for 'Stormy Daniels' over the past month.
The site wrote: "As a result of the current news cycle, we saw a whopping 21,655% jump in searches for Stormy Daniels this week, compared to her daily average for this quarter, which was about 2,150 searches a day."
Since 17 March, right before Trump announced he was about to be indicted, Daniels' numbers exceeded record highs.
And, on 21 March alone, Daniels' name was searched 467,078 times - which works out to a massive 21,655 percent increase to her usual average.
But the spike didn't stop there.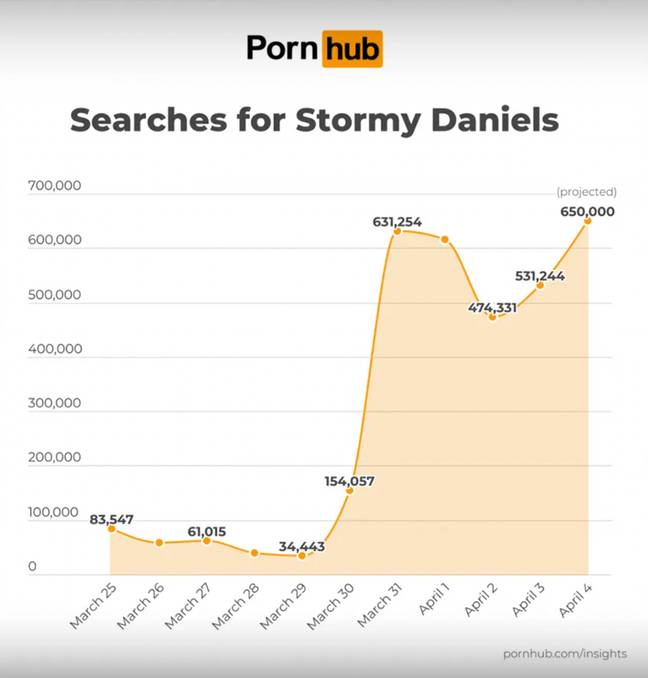 And more recent data from Pornhub Insights also shows that Daniels was searched over 650,000 times on Tuesday (4 April) which, when compared to her daily search average from the first three months of the year, levels out to a staggering 32,400 percent increase, according to TMZ.
The site concluded their findings by writing: "The news has no doubt invoked interest in her work," before linking to Daniels' array of videos on Pornhub.
"So," they added, "join the fun and take a look for yourself!"
Trump is due to return to court again later this year (4 December).