Tourist terrified after being attacked by vicious giant sea turtle
A tourist was left fearing for her life after being attacked in the ocean - but rather than a shark or an orca, the perpetrator was a sea turtle.
Although they may look adorable, turtle attacks aren't unheard of, especially when someone goes swimming in their living space.
Lidia Bazarova learned this the hard way when one of the shelled reptiles sunk its beak into her backside and dragged her underwater while holidaying in Turkey.
The 64-year-old from Russia had gone for a swim at Güzeolaba, a popular Mediterranean resort, and was only around 11 feet from the shore when the animal pounced.
Speaking to IHA news agency, she said: "I wasn't expecting anything, I was really close to shore - some three or four metres - when I just turned onto my back and lay like this.
"Then something grabbed my backside. It was really scary. I didn't know what it was that suddenly grabbed me."
The large turtle tried to drag her under the water, with Lidia adding: "I was beating about the water with my arms, I was drowning.
"The creature let me go only to grab me with an even stronger bite. I don't know how long it lasted."
While sitting with her 37-year-old daughter Kamila for support, she continued: "Luckily a rescuer man saw me.
"He rushed to me and started to yell at [the creature]. I guess it switched attention to the rescuer."
The heroic man, later identified as lifeguard Mustafa Sarı, battled the turtle and eventually scared it off as Lidia swam back to safety.
But that didn't come without its consequences. She continued: "I raced towards the shore. I don't know how he was, but his arm is broken.
"I was fighting my pain and my fear. Morally it was awful."
As for Lidia, she suffered wounds on her butt, hip, legs and fingers, with shocking clips showing huge bruises on her body.
Up until this point the mum had frequented the resort, but now she says she's not sure if she'll ever be able to get back in the sea.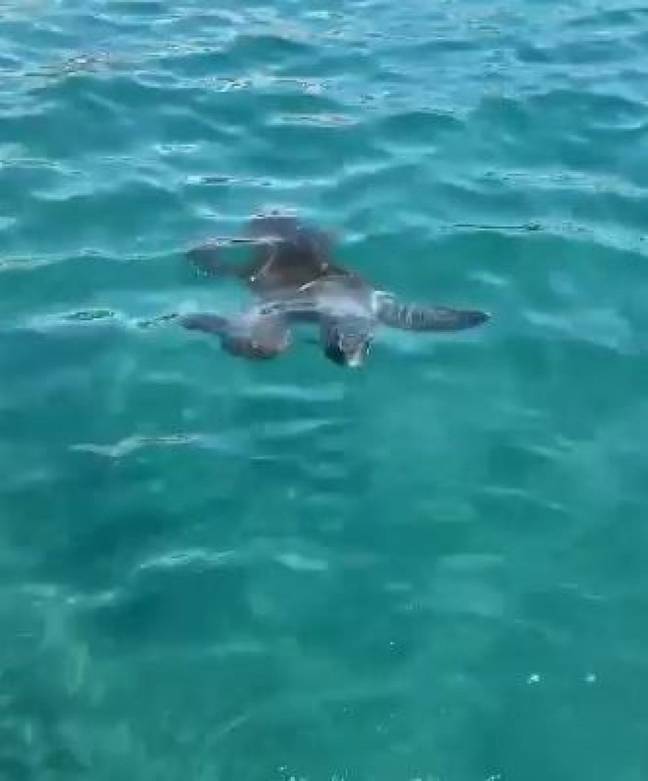 The animal in question was a carnivorous loggerhead sea turtle, called the Caretta Caretta, which can weigh up to 160kg.
Kamila went on to thank the lifeguard, saying: "Without him, maybe the result would have been bad.
"There were similar cases before. It bit a woman and a man before my mother.
"We want a warning posted about this danger. It is terrible that we will no longer go into the sea."