Keen shoppers were queuing up on high streets from 4am today as they waited to get hold of deals in the Boxing Day sales. You can see them below:
Those living in Tier 1, 2 and 3 areas were photographed standing outside shops hoping to get a bargain, despite freezing cold weather and the fact it was still dark.
In contrast, people living in Tier 4 areas, including London and much of the South East, will have to hunt for deals online after non-essential retail was forced to close.
In the video above, shoppers in North Tyneside can be seen waiting outside Next for when it opened at 5am, with the store putting social distancing measures and a queuing system in place to keep everyone safe.
Photos from Liverpool show shoppers leaving Next with mounds of bags.
Many decided to queue, despite the Prime Minister issuing a warning about potential overcrowding during the Boxing Day sales.
The PM said in a press conference: "The overall situation is, alas, worse and more challenging than we'd hoped when we first set the rules."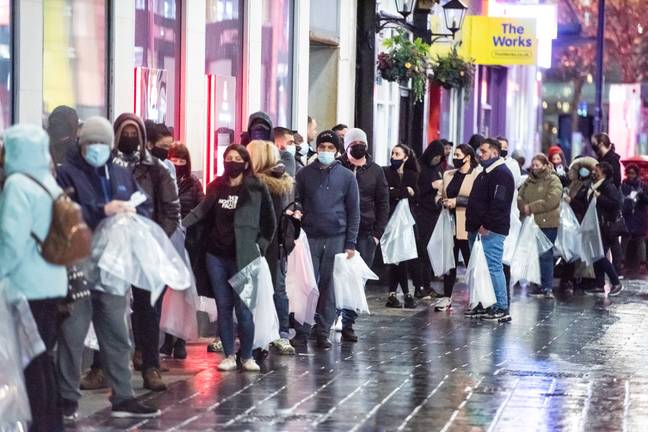 He added: "If possible don't travel from a high prevalence to a low prevalence area and avoid staying away from home overnight.

"And if you have an elderly relative, you might want to delay seeing them until they've been vaccinated.
"And whatever your plans for Christmas, please think carefully about avoiding crowds in the Boxing Day sales, and no one should be gathering in large groups to see in the New Year."
But while some stores have taken advantage of the traditional Boxing Day sales, others have made the decision to give their staff the day off.
Home Bargains announced last month that all staff would have Boxing Day off, while also handing out two weeks' extra pay to many of its workers.
For the third year in a row, the bargain store will say 'thank you' to its staff by giving them Boxing Day off work fully paid.
Home Bargains also shut up its shops slightly earlier on Christmas Eve - 5pm compared to its usual 6pm or 8pm closing - to allow staff the evening at home with their families.
Bosses at Asda also announced its stores will stay closed on Boxing Day to give frontline staff a much-needed break.
They will also receive a bonus, with all eligible hourly-paid members of staff due to get a guaranteed 100 percent bonus, which will be paid in February 2021.
Staff that were contracted to work on Boxing Day will receive full pay, with the head of the Leeds based supermarket chain recognising the hard work put in by employees from all 631 of the chain's branches.