Man risks his life to save a sheep after it became stuck on a cliff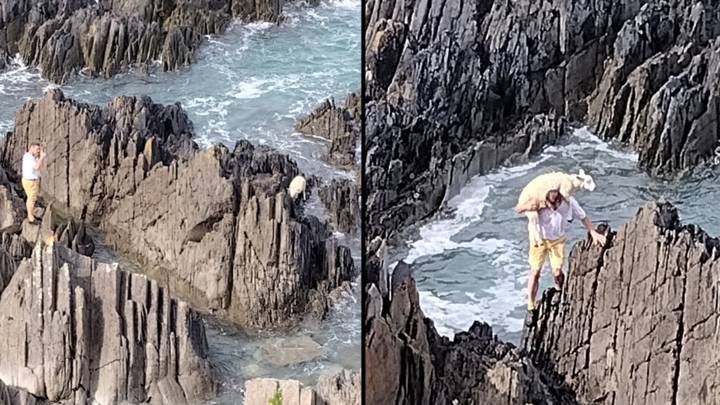 A man has risked his life to save a sheep who got stuck on a rock at a cliff edge as the ocean's tide began to rise.
While walking along the coast at Woolacombe in Devon, Chris Oxlade-Arnott and his wife Jilly noticed the helpless animal in the background of one of their photos.
"I was taking scenic photos and spotted this sheep stranded on this rock," Jilly said.
"It was glaring up at us like it was saying 'help'.
"If we left it, it would die. We couldn't walk away. We couldn't live with the what if."
Chris added: "It didn't look like anyone else was going to assist or had even spotted her."
So the two decided to conduct a rescue mission for the poor, distressed sheep.
"I used to rock climb," said Chris. "I'm quite sure-footed so thought the best choice of action was for me to try a rescue."
Although, finding a suitable rescue path to the animal proved quite difficult for the experienced rock climber.
"The rocks were jagged and very pointed, with steep edges and limited foot holds, which were really nasty especially when wet," he said.
"My wife, Jilly stayed on the cliff top to guide me and call for help if things went badly, but luck was on our side and the sheep was too exhausted to make a fuss."
Once Chris made it to the sheep, Jill said the animal had become even more edgy.
"Initially it was panicking and moving towards the water so Chris grabbed it and reassured it," she said.
"In the end, he put it around his neck, held onto its front legs with one hand, then clambered up the rocks with the other."
Chris hauled the 50-kilo sheep over one of his shoulders and carried the vulnerable animal back to safety.
He said that the rescue mission took around 30 minutes.
Upon returning with the sheep, a group of bystanders were cheering and applauding the courageous rescue mission.
Jilly said the poor sheep looked like she was starving, so after a quick lie down to catch her breath, the sheep walked over and ate some juicy grass.
"It's do you or don't you, and whether you take the risk. But we decided we just couldn't leave it there to die," said Jilly.
Chris added: "I don't like to see animals in pain or distress. Especially if I can help."