Russell Brand has been dumped by his management agency following sexual assault allegations
A joint investigation by Channel 4 show Dispatches and The Times has unearthed claims of sexual assault and rape.
Four women have come forward against the British comedian and have alleged they were victimised during a period of 2006 to 2013.
He was at the height of his fame during that time and was appearing in Hollywood films as well as being employed by the BBC and Channel 4.
LADbible has attempted to contact Russell Brand for an updated comment.
Most of the women making the allegations against Brand have chosen to remain anonymous, but one accused the comedian and YouTuber of raping her at his Los Angeles home.
Another alleges Brand assaulted her when she was just 16 years old and he was 31.
A third says Brand – now 48 – sexually assaulted her while she was working for him and that he threatened legal action if she told anyone about the allegations.
The fourth woman said that as well as sexually abusing her, Brand was also emotionally and physically abusive towards her.
As a result of the allegations, Tavistock Wood Management Agency has dropped Brand as a client.
In a statement published over the weekend, the company says they were 'misled' by the comedian.
"Russell Brand categorically and vehemently denied the allegation made in 2020, but we now believe we were horribly misled by him," the agency said.
"TW has terminated all professional ties to Brand."
Before the allegations were levelled in the joint Channel 4 and The Times investigation, Brand posted a video to strongly deny all the claims against him.
He admitted that while he was 'very promiscuous' at the height of his career, his relationships were 'always consensual'.
In the video titled 'So, This is Happening', the comedian says: "Now, this isn't the usual type of video we make on this channel where we critique, attack and undermine the news in all its corruption because in this story, I am the news.
"I've received two extremely disturbing letters or a letter and an email.
"One from a mainstream media TV company, one from a newspaper listing a litany of extremely egregious and aggressive attacks, as well as some pretty stupid stuff like my community festival should be stopped, that I shouldn't be able to attack mainstream media narratives on this channel.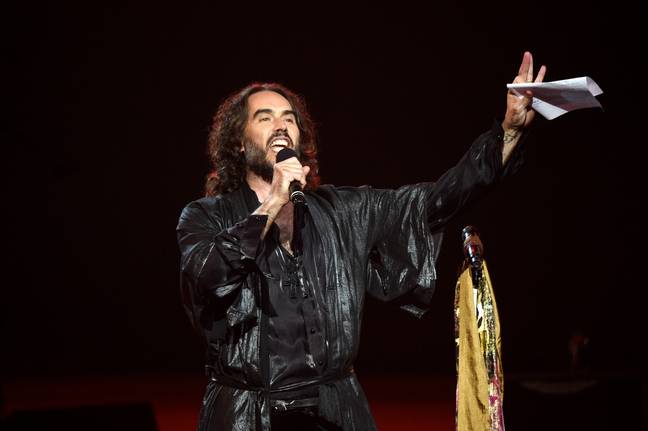 "But amidst this litany of astonishing rather baroque attacks, are some very serious allegations that I absolutely refute.
"These allegations pertain to the time when I was working in the mainstream, when I was in the newspapers all the time, when I was in the movies. As I've written about extensively in my books, I was very, very promiscuous.
"Now, during that time of promiscuity, the relationships I had were absolutely always consensual.
"I was always transparent about that then, almost too transparent, and I'm being transparent about it now as well.
"And to see that transparency metastasised into something criminal that I absolutely deny makes me question, is there another agenda at play?
"Particularly when we've seen coordinated media attacks before, like with Joe Rogan, when he dared to take a medicine that the mainstream media didn't approve of, and we saw a spate of headlines from media outlets across the world using the same language."