Dad fuming after kid gets measured at all-you-can eat restaurant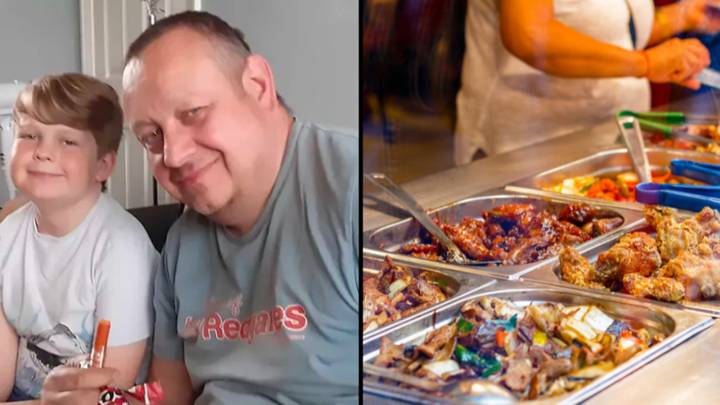 A dad has been left fuming after his 10-year-old son was measured at an all-you-can-eat restaurant and charged a full adult price.
Dad Craig Cantrill took his son and friend, who is also 10 years old, to the Wong Ting buffet restaurant in Sheffield.
But their dinner experience took a turn when a waitress at the restaurant measured Craig's son and concluded he should pay the full adult price - despite him only being 10 - while his friend managed to get the kid's discount.
"We sat down for the meal and a lady came over and took them away - I thought it was for a lollipop or something," Cantrill told The Star.
"They had a measuring stick and measured their height. They came over and said they would be charging full price for my son.
"It was on my mind all the time and it totally ruined my evening."
Understandably, Cantrill said the experience left a 'bitter taste' in his mouth, as his son's friend, who is shorter, was charged the child's rate.
Cantrill claims the restaurant's menus state the prices are height-dependent but says it did not give the height limits.
The restaurant's boss, Lance Pang, has since hit out at Cantrill and branded him 'ignorant'.
Pang said the menu at the restaurant clearly states that the age limit for the kids' discount is 1.4m.
"I will stick to my guns as this is our policy. If you don't like it, you have the option," Pang said. "People are ignorant. It's on the menu.
"Sometimes you get a child who is 15 and six-foot-two and they eat more than anyone else."
The restaurant boss also claimed that his restaurant isn't the only buffet that has adopted this policy.
Although you may be thinking, "isn't that the whole point?" well, apparently not.
Poppy, from the UK, explained that she'd been out for a meal at an 'all you can eat' buffet, but upon checking the receipt spotted that she'd been charged twice because she ate 'too much'.
She obviously refused to pay twice and explained the whole ordeal in a TikTok. "I once went to an all you can eat buffet, and when the bill came, I noticed they'd charged me twice,
"I questioned it and asked why, and they said I'd eaten too much."