Civilians in Ukraine have been seen making Molotov cocktails to help defend their country from the Russian invasion.
Footage caught by Sky News in Dnipro, central Ukraine, shows locals helping to create the improvised weapons, following a recipe sent out by the Ukrainian Ministry of Defence.
Hundreds of men and women can be seen packing glass bottles with Styrofoam - according to Sky News, the Styrofoam is used as it helps the firebomb to stick to its target.
Ukraine has called upon anyone who is able to take up arms in resistance, and has banned men between the ages of 18 to 60 years old from leaving the country - as many of them are expected to fight.
As well as taking up arms, Ukrainians have been helping bring in supplies, including food, water and sleeping bags.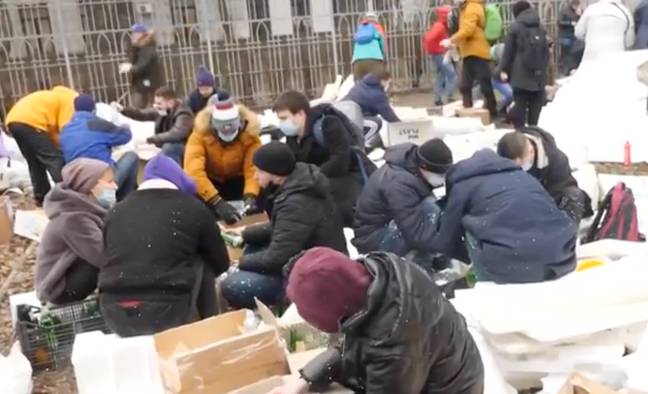 Last week, Ukrainian President Volodymyr Zelenskyy called upon the citizens of European countries to protest and demand stronger action from their governments.
Zelenskyy said: "The invasion of Russia into Ukraine is not just an invasion, it's the beginning of the war against Europe,
"Against the unity of Europe. Against basic human rights in Europe. Against all rules of coexistence on the continent. Against the fact that European states refuse to divide borders by force."
He continued: "What are you going to do about it?
"How are you going to defend yourselves if you are so slow helping us in Ukraine?"
He urged Europe to act more forcefully and at greater speed to enact sanctions that will truly hurt Russia, before saying that Europe has 'enough strength to stop this aggression'.
Zelenskyy has vowed to stay in Ukrainian capital Kyiv, even though he knows he's a target for the Russian military.
In a televised video on Friday, he said: "[The] enemy has marked me down as the number one target,
"My family is the number two target. They want to destroy Ukraine politically by destroying the head of state.
"I will stay in the capital. My family is also in Ukraine."
If you would like to donate to the Red Cross Emergency Appeal, which will help provide food, medicines and basic medical supplies, shelter and water to those in Ukraine, click here for more information.