ATM receipt shows what a $100 million bank account balance looks like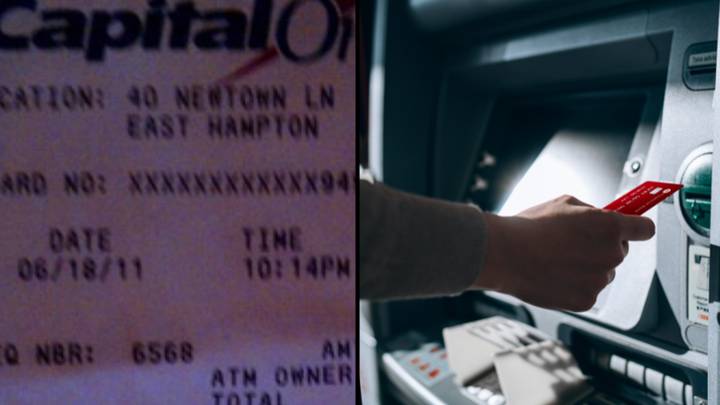 An ATM receipt has revealed exactly what a $100 million bank account balance looks like.
Ever wondered what your local trip down to the cash machine could look like if you were a millionaire raking it in?
Well, you won't have to imagine it any longer as someone discovered a receipt showing a whopping astounding $100 million savings balance.
The receipt in question was found at the Capital One Bank in East Hampton Village, New York, by the next customer to use the machine.
The customer subsequently submitted it to Dealbreaker - a publication that covers the personalities and culture that shape the financial industry, offering original commentary, news and entertainment.
It showed a staggering amount of $99,864,731.94 in the high-flyer's savings account, as well as the inevitable ATM withdrawal fees I'm sure many of us grind our teeth over.
The fee in question, however, a $2.75 charge, is clearly nothing compared to the bank account owner's hefty fortune.
The transaction took place back in June 2011 a little after 10pm with the customer withdrawing $400 from the account.
Wonder what it could have been for?
Now, it has not yet been confirmed who the bank account owner is - but one thing's for sure it is far from your average saver.
However, Dealbreaker identified the account holder as hedge-fund manager and Appaloosa Management chief, David Tepper, who has since been forced to come forward and deny such claims.
Tepper explained he 'hadn't used an ATM since Lehman' whose collapse acting as one of the triggers for the 2008 financial crisis.
He told The Post he 'wasn't in the Hamptons in June at all' and pointed out that he would never put such lump sum into such a low-yielding account.
"I would never do something as irresponsible as leaving $100 million in a savings account," he stated.
Gerard Piqué has posted his wages to social media back in January 2022 to reveal with fans his payslip for the last six months and the figure may be shocking to some fans.
Taking to X, formerly Twitter, Piqué cleared up some reports made by sports journalist, Lluis Canut, on Catalan television that he had raked in a whopping €14million (£11.7m) for just one season.
The translated tweet reads: "Characters like this charging public television to defend their friends.
"Here is 50% of my payroll collected on December 30th. Have some respect for yourself."
Accompanying the tweet was a screenshot of his payslip which totalled to €2,328,884.39 (£1.94m) which is clearly considerably lower than the alleged wage he was reported to be earning per season.