This is what the 'UK's scariest debt collector' Shaun Smith is doing after his life of crime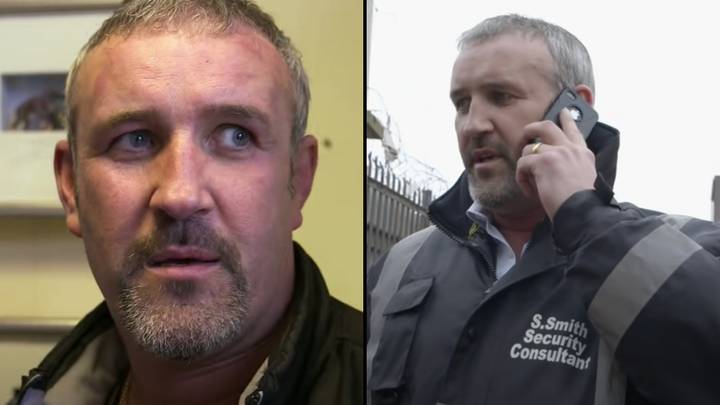 Today we're here to take a look at a man dubbed the 'UK's scariest debt collector' and what he's been up to after his life of crime.
For those not in the know, Shaun Smith was once a feared gang enforcer in Liverpool, having worked for one of the biggest crime families in the UK city.
In a now infamous documentary on the 56-year-old, which aired back in 2013, Vice explained: "Shaun introduced urban terrorism to the British underworld.
"He sprayed up houses with machine guns, tortured people and used homemade napalm to firebomb his enemies."
In short, he wasn't a guy you'd ever want to mess with.
But after spending five years in prison for firearms offences, Smith decided to turn his life around and utilise his skills in a new career.
And this is where the nickname comes in. You see, the former convict started working as a debt collector - but it's safe to say he didn't get the job through the traditional route.
As said by Vice: "Often, Shaun's debts fall into the grey area between the legit economy and the underworld. A lucrative market, potentially worth £150 billion in Britain."
The documentary showed Smith on what was described as a regular job for him, consisting of a dispute between a businessman and a gangster.
His story captured the attention of people across the globe, with the video earning more than 32.6 million views at the time of writing.
Considering his line of work, it's no surprise he's not active on social media, leaving many wondering what he's up to today.
Another side to the doc showed the other career path Smith had chosen - opening a gym, which was described by its visitors as a 'community centre'.
Smith found redemption in this line of work, and used his experience as a bare-knuckle boxer to teach others.
Back in 2019, LADbible were lucky enough to catch up with Smith, who now runs Smithy's Gym in Warrington and Ultimate Bare-Knuckle Boxing events with his wife Amanda and business partner Stu Armstrong.
It's the UK's only bare-knuckle academy, and he spends his days there training fighters before putting them up in bouts at major events.
"For me, it's the ultimate test of your manhood," he said. "You won't get anything more raw than having a fight with your bare fists.
"Something's gonna get broken, something's gonna bleed...and these men are going into it knowing that this isn't a case of 'it might happen. It definitely will happen.
"It's the most extreme sport you can do. Professional boxing is good, MMA is good, Muay Thai is good, they're all extreme, hard sports, but bare knuckle has just got that extra venom."
And if that weren't an incredible feat in itself, the former gang member could even have his story played out in Hollywood.
Last year, Smith told the Liverpool Echo that he was involved in negotiations with production companies and agents who are interested in making a film based on his life.
He said: "The background to all of this is the documentaries with Vice which showed me collecting debts and trying to get the gym going.
"They generated a surprising amount of interest around the world and received millions of views.
"But the real story is about how the gym helped me break with the past and move forward."