Woman Who Bought First Home Aged 22 Says Young Buyers 'Don't Want To Make Sacrifices'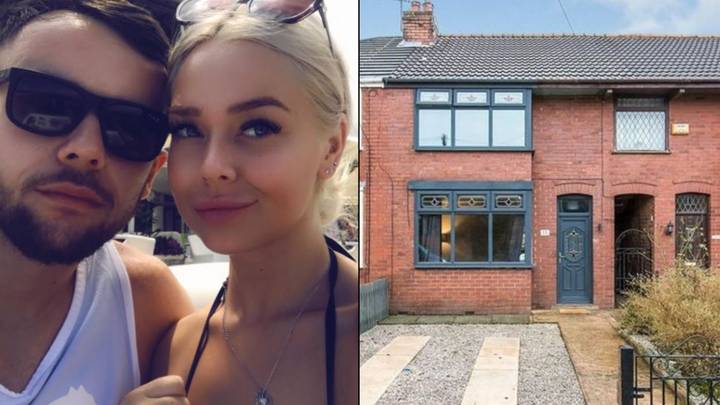 A woman who bought her first home at the age of 22 says that 'most young people don't want to make sacrifices' when it comes to owning their own home.
Of course, this is a debate that has burned brightly of late, with many folks willing to put aside the obvious fact that house prices have risen at a magnitude well above the average salaries of young people.
Furthermore, many of those who claim that young people need to save harder or make sacrifices to own their own property have taken advantage of privilege not available to everyone, such as parental help either through interest-free loans, straight up buying the house for them, or allowing them to live rent-free during saving.
In the case of Georgina Carson and her fiancé Freddie Quinn, they picked up their first house in Wigan for £82,500 three years ago, having paid a five-percent deposit.
They saved up by making sacrifices – of course – forgoing nights out and counting every penny, but were also able to live with their parents at home, admittedly while paying rent.
Again, that's not an option that many have.
They managed to renovate the property themselves during lockdown at a cost of between £6,000 and £7,000, before selling it for £115,000 – a profit of £32,500.
She explained: "Whilst saving for our first house my partner and I were both earning just over £20,000 a year, so not an extravagant wage.
"We put away savings every month and managed to save about £1,000 per month between us.
"When we got the keys, we moved into the house straight away and lived in it whilst we were renovating.
"We didn't even have a bed, we just had a mattress on the floor and were living very basic.
"We had to wait to get paid every month to buy things to renovate the house. So one month we'd do the tiling and another month we'd get all the paint to do the walls.
"This was all to save as much money as possible as that's what you have to do."
After Kirstie Allsopp – who bought her first home at 21 with financial help from her parents at a time when the average house price was £51,000 – said that youngsters need to give up 'coffee, gym memberships, and Netflix' to buy a house, the debate came to the fore once again.
Georgina partially agrees with Allsopp's controversial take.
She continued: "I think this is true, a lot of people don't make sacrifices for what they really want,
"A lot of young people don't want to make these sacrifices which, each to their own, but if you want something that much you would do what you could to get it.
"I still enjoyed myself whilst saving, I always liked to make sure I have money saved to go on weekends away or to go abroad and that's just because I manage my money well not because I come from a wealthy background.
"Giving up things like Netflix and coffee won't give you the money for a house but it does help to save all that extra bit of cash you can.
"Maybe cut down on how many coffees you buy a week or think about if you really need subscriptions to Netflix etc."
She added: "Whilst living with my parents I still paid rent, probably just not as much as I would have if I moved out.
"We're not big drinkers so we didn't go out every weekend and I only bought clothes for occasions or if I needed them, so that helped us to save.
"I think young people rush to move out so young, and then use most of their wages on rent.
"For some people that might work but then you are stuck in a trap of paying rent from a young age, which then makes it harder to save for a deposit for a house.
"I think it does help to try and stay at home with parents if you can, just so you can get yourself on track and save up a bit more money instead of moving out at 18."