Antarctic 'secret door' spotted on Google Maps sparks bizarre Hitler conspiracy theories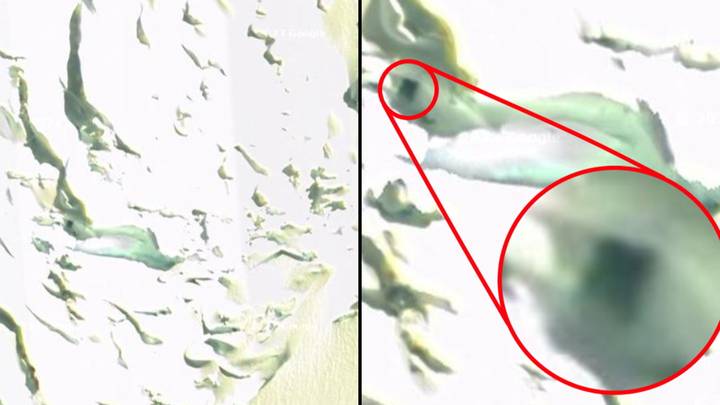 A new day is born and with it brings yet another conspiracy theory to take over people's lives.
Today's suspicious goings on involve Adolf Hitler and a so-called 'secret bunker' lurking in Antarctica.
Yep, internet sleuths believe they may have stumbled on the mother load of conspiracies. I mean, they always do, don't they?
One eagle-eyed detective recently took a stroll through Google Maps, and was stunned by what they saw while hovering over the vast sheet of ice.
On closer inspection, the Facebook user believed they had found a doorway to a secret hiding spot.
The pic of the 'entrance' was shared with the caption: "Doorway into the ice."
It quickly racked up more than 1,600 likes, comments, and shares.
And it didn't take long for people to start putting two and two together and getting Hitler.
Commenting on the post, one person said: "There's a Nazi base in there somewhere."
A second agreed, saying: "I thought they were all in Argentina? Antarctica would be a much more suitable hideout."
"I've heard there are many bases there [in Antarctica] ranging from out-of-town visitors to deep in the mantle civilizations," put a third.
"Even the Fourth Reich have a large establishment still [there] apparently.
"It's convenient when you don't have civilians or any media to worry about - on an entire continent they can do all their illegal experiments far from prying eyes."
In the late 1930s it's widely known that the Nazis set sail for Antarctica with the aim of setting up a base there.
However, while some believe it was to be some kind of hiding place, it was actually an attempt by the Nazis to source their own whale oil to move away from their reliance on Norway.
And not everyone was taken in by the Hitler theory.
One user joked: "Clearly you've found the home of an Abominable Snowman!"
With someone else adding: "That's where all the giants moved to when us regular humans came around."
Others were a bit more matter of fact about the whole thing, and were not buying into the theory that Hitler and his minions - or any other sinister organisation - set about creating a secret bunker to hide out after World War Two.
One said: "An icefall is an unlikely door spot."
Echoing the dismissive tone, another commented: "Sometimes a hole is just a hole."
I'll leave you to make up your own minds.