Man explains why he let unbelievably huge spider the size of his face live in his house for a year
For many of us living in the UK, the prospect of finding a spider in our home is a petrifying thought, no matter how big or small it may be.
In Australia, however, things are a little different, where not only are the spiders an awful lot bigger, they're also far more likely to snooping around your home.
But, while creepy crawlies are definitely more commonplace in Australia than here in the UK, that doesn't necessarily mean they're more tolerated.
Well, apart from one bloke, Jake Gray, who was more than happy to let a gigantic huntsman spider live in his home for over a year, and he even affectionately named her Charlotte.
In story which truly is the stuff nightmares are made of, Aussie Jake revealed that rather than chucking out the venomous spider, he has been 'watching her grow' over the last year.
Taking to an Australian spider identification page on Facebook, he explained that he thought Charlotte would be ideal 'housemate material' and that he hopes 'she will grow some more' as she continues to live with him.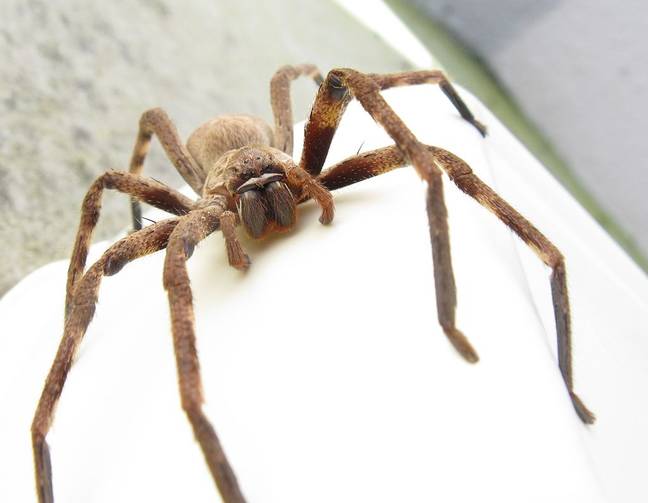 While most of us can't possibly imagine why anyone would be happy to share a roof with a huntsman spider, Jake told IFL Science that these particular arachnids have always been tolerated in his home 'due to their appetite for cockroaches'.
"And we don't use toxic kill all chemicals for pests," he added. "Just point and push fly sprays."
Jake and his family decided to name the spider Charlotte in a bid to help their children Jack and Bella come to terms with the fact she was living in their home.
Speaking in 2020, the father-of-two explained: "We first spotted Charlotte 12 months ago and she was bigger than usual and over the year she would pop up. Seeing her eating an Asian house gecko was a highlight."
As horrifying as that sounds, it turns out huntsmen spiders are not actually as dangerous as you might think.
While they do produce venom, they're extremely unlikely to ever use it on any humans.
In fact, these timid (not so) little creatures are more likely to run away from people than attack.
Plus, if they ever did bite a human, the effects would be mild, so really, perhaps we should all be a little more accommodating to creatures like Charlotte, just like Jake and his family.