Inside World's Toughest Prisons host Raphael Rowe speaks out on 'brutal' treatment from guards he's witnessed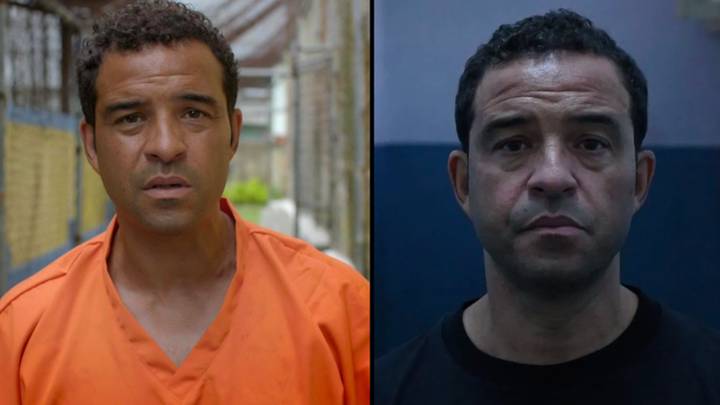 Inside the World's Toughest Prison's host Raphael Rowe has revealed how UK prison guards compare to those across the globe.
The seventh season of Rowe's Netflix show sheds light on the vastly different approaches of prisons around the world in how they attempt - or don't attempt - to rehabilitate prisoners.
Having experienced jail himself - wrongfully imprisoned for 12 years at the age of 19 - Rowe has a unique insight into what life is like behind bars.
The 55-year-old tells LADbible about his experience with the prison guards he encountered in the UK and how it compared to some of the relationships he saw between inmates and officers while filming for the latest season. Catch Rowe talking about his time in prison here:
Rowe tells LADbible his interactions with prison guards during his time in prison was 'quite brutal'.
"It was a lot of conflict, it was very degrading," he says.
Whereas in some of the prisons featured in the journalist's Netflix show - including season seven - he saw 'the relationship between prisoners and prison staff be the catalyst for the behaviour change of that individual prisoner'.
Rowe continues: "And these prison staff members don't have to be psychologically trained to help, but just caring, being sympathetic and understanding that this young person or this elderly person, or this middle aged person that's in prison, could have been them, it could have been their brother, it could have been their son, it could be anybody."
Some of the prison guards Rowe saw across the globe recognised inmates are there 'as a punishment' rather than their roles being to punish prisoners.
Rowe continues: "That doesn't mean they don't ensure the prisoner conforms to the rules, you know, and they behave in a way the prison expects, so that it can maintain security and all the things that need to be maintained for the harmony of a prison.
"It's just [...] in some countries, the cultures are so different that the prison staff don't see it as 'Them and Us'.
"They recognise, as do the prisoners - they recognise the prison staff, even though they're in uniform, can be their friend. And they say it's their friend. Whereas in this country, I don't think that happens very often at all."
Rowe believes the relationship between prisoners and prison staff makes 'a huge difference' to how the prisoner reintegrates back into society when they come to the end of their sentence
He resolves: "If that prison officer's brutalised them - and the prison system has brutalised them in the time that they've been in prison - they're going to come angry, and that's directly as a result of the treatment from members of staff."
Raphael Rowe presents Netflix's 'Inside The World's Toughest Prisons'. Series seven available from Friday 15th September.
If you're experiencing distressing thoughts and feelings, the Campaign Against Living Miserably (CALM) is there to support you. They're open from 5pm–midnight, 365 days a year. Their national number is 0800 58 58 58 and they also have a webchat service if you're not comfortable talking on the phone