I Went On The First Sailing Of The World's Biggest Cruise Ship – And It Was Jaw-Dropping
The world's BIGGEST EVER cruise ship has just completed its maiden voyage - and it was quite the journey. See for yourself here:
I've never thought about going on a cruise. Why would I?
But when presented with the opportunity to be on board the first ever sailing of the world's biggest cruise ship - which carries enough beer to fill all 19 pools twice over - it was a no-brainer.
If there was ever a place to start, it was on this record-breaking luxury floating town.
One historic mega cruise please.
Yes, I lost my cruise virginity to Royal Caribbean's Wonder of the Seas, which is a bit like losing your curry virginity to a vindaloo – or your actual virginity at a swingers' party.
The ship is 1,188 feet long, making it longer than the Eiffel Tower is tall, or exactly the same length as 1,188 Subway footlongs.
It set sail from Miami, embarking on a week-long cruise through the Caribbean, stopping in Haiti, Puerto Rico and the Bahamas – one day in the spring-breaker-riddled capital of Nassau, another on the island of CocoCay, which is used exclusively by Royal Caribbean.
But before I continue, I thought I might reel off the answers to some of the burning questions I had before losing my cruise V on Wonder of the Seas:
. Just how big is it then?
As previously mentioned, it is the equivalent of 1,188 Subway footlongs in length and is 210 feet wide (or 210 Subways footlongs, to you and I). Its gross tonnage is 236,857 (I'm not sure what that is in footlongs).
. How many people fit on it?
The ship can hold more than 9,000 people – 6,988 guests and 2,300 crew. On this maiden cruise, however, there were only 4,200 guests, but the full complement of 2,300 staff. As such, on this cruise at least, there wasn't any of the buffet and deck chair congestion I'd anticipated and the service was superb.
. Can you feel the ship moving as you cruise?
Yes, you can a bit, more so near the front at the top in the Solarium, which is a fantastic space in which you can sit in a jacuzzi with panoramic views of the sea. However, Royal Caribbean informed me the rockiness was due to a warm front in the Bahamas and was 'really unusual' for this time of year.
. How much booze is on there and can you get draught pints?
There's enough beer in the storeroom to fill all 19 onboard pools twice over, and yes, in some bars, you can get draught beers – though they don't serve them in pints.
. Are cruisers all...old?
No, they are not. There is definitely an elderly contingent, but there are also lots of families (though fewer children than I'd expected), as well as young couples and groups of friends.
. How much did it cost to build and how long did it take?
The ship cost more than £1billion ($1.31 billion) to build and the process began in France in 2016, lasting 30 months in total.
. So is it like, really really big?
Not necessarily as much as you would expect, though there are ample opportunities to increase your bill. Prices start from around £750 ($985) a head (if two of you share a room), but this goes up depending on just how fancy a room you fancy.
An impressive range of food options is included within that cost, but you have to pay extra for certain restaurants. Then, of course, there are the drinks you'll be wanting.
I had the deluxe drinks package, which costs between $63 (£48) and $89 (£68) a day, and entitles you to unlimited drinks. On top of that, at each stop there are plenty of enticing activities and excursions – such as a water slide park, zip-lining and swimming with pigs – which will set you back further.
. How many lettuces are on the ship?
I'm afraid I never got to the bottom of this, but I'd estimate somewhere between 100 and 100,000.
Anyway, like pretty much everything, the cruise industry has been hit hard by Covid – particularly hard in fact, given it is essentially a combination of the worst-affected industries: tourism, entertainment and hospitality.
But literally within seconds of completing all of the onboarding vaccine passport-checking and negative test-showing, it became apparent we'd be leaving all of that tedious misery behind, as a raucous Caribbean band and glasses of prosecco greeted us as we crossed the threshold into our new massive floating home.
Indeed, it was hard not to feel at home as every single passing member of staff warmly welcomed us. They'd be like this all week, it turned out. Always friendly, always tidying up your cabin and turning your towels into towel animals. Always eager to serve you a tipple; two waiters said, 'Well, you're not driving,' which was definitely for the best.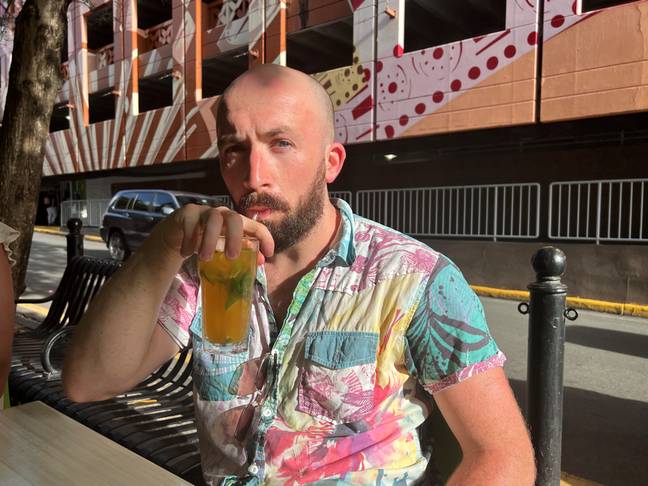 The 'cruiser community' was also extremely welcoming. Every lift ride between the 16 accessible decks (there are 18 in total) was riddled with fleeting meet-and-greets, before the doors opened and we parted ways. On occasion, these elevator soirées would escalate with the unexpected appearance of the 'stowaway pianist', who would rattle through an Elton classic as passengers elected to take a little detour up and down the ship as they sang along.
Among this cruise community, there is an obvious diehard division. The ones who wear their complimentary 'Wonder of the Seas' caps without any sense of irony, who decorate their cabin doors with stickers that say things like 'Life is good, but it's better on a cruise', the ones who tell you as they disembark that they wished they'd 'doubled-up' – meaning they wished they paid to stay on the ship another week and do the same cruise all over again (the ship has already embarked on its second sailing now, and it will relentlessly continue this week-long cycle for months and months).
While doubling up may seem a tad extreme, there simply isn't enough time to do everything in a week. The ship is designed to cater for whatever you desire: pools, shops, live music, bars, restaurants, slides, theatre productions, rock climbing, comedy, surf simulators, karaoke, saunas, parties, peace. And that's just the tip of the iceberg – to use a rather unfortunate idiom.
In fact, many of the aforementioned hardcore cruisers actually prefer to forgo the white sands of the Bahamas and the Piña Coladas of Puerto Rico in order to maximise their ship time.
You see, while most of us say we like travelling, it usually isn't true. What we actually like is seeing different places – travelling is just the price we pay. But with a cruise, or at least a cruise on Wonder of the Seas, the chore that is travel has been made so luxurious and hassle-free that some people actually prefer the sail days. In this case, it's about the journey rather than the destination.
So if you just want to switch off for a week and have everything handed to you on a plate (sometimes literally), a cruise is a great option. You don't have to worry about where you're going, what you're doing or tidying your room, it's all done for you.
Paradoxically though, while this may sound like the pinnacle of relaxation, it can actually be quite exhausting. Perhaps because of the sheer amount of things there is to do, you can't help but feel fatigued by all the excitement, combined with an ever-present sense of FOMO (fear of missing out, for the laymen among you) when you look at the extremely handy app, which informs you of all the things you're missing out on at any given moment.
The app also helps you navigate the ship, which I anticipated would be an issue pre-cruise, but everything is very well formatted and ergonomic, so you soon get some sort of bearings.
Indeed, the overwhelming impression is one of a highly complex procedure mastered through trial, error and feedback.
Mark Tamis, the senior vice-president of hotel operations at Royal Caribbean, said the crew had undertaken 50,000 hours of training ahead of the first sailing, and you could tell.
You know when you host a house party, and you realise afterwards you should have bought more tonic or provided a broader selection of chips and dips, and then next time you do, and the party is better? Well, it's like that but on a massive scale, with every detail covered.
A sign just as you're getting disorientated, a fresh towel pile just where and when you need it, speakers on the gangway as you're feeling slightly unstimulated for the first time in four days.
One elderly couple I met opted to play dominos before riding the carousel, which melted my heart a little bit. Conversely, on the Monday, I started my day at the apparent home of piña coladas in San Juan, and ended it by doing the worm on the ship's nightclub dancefloor, just before a YouTuber-cum-breakdancer decided to brutally upstage me.
On the Tuesday, I met a guy who I'd apparently met the night before, who told me my worm-based humiliation was nothing to feel regretful about – he went on to splash $3,000 (£2,284) in the casino (which you can smoke in, by the way).
In fact, he told me there's no such thing as embarrassment on a cruise; a statement that was verified on International Women's Day, which was celebrated with a 'World's Sexiest Man' competition on the top deck, during which competitors we were warned not to touch the female judges, while the judges were encouraged to touch the competitors as much as they pleased (though they didn't please much).
As I watched on with bemusement, I came to the conclusion that the hottest male specimen on the planet was almost definitely not among the few thousand on the Wonder of the Seas.
If you are the sort of person who likes to keep in shape though, you needn't worry – the ship caters to the fitness focused. It has a gym and classes, neither of which I managed to attend, because of that deluxe drinks package I mentioned.
I did make it to the running track on deck five, however, completing seven laps of the ship, which is equivalent to just shy of 5km. Puerto Rico was the sun, the ship was the Earth, and I was the taco-filled Moon, struggling to complete my orbit.
As well as pondering galactic cruise jog analogies, I also noticed it was the quietest part of the ship, which was understandable given there was always copious amounts of delicious and enticing food and drink available elsewhere.
I only managed one run, but I lapped the bars and buffets on countless occasions, which says it all really.
Now I'm back on UK soil and my scales don't recognise me. I miss morning margaritas, pocket croissants and pre-bed pizza. And I've got the post-cruise blues.
While a cruise may sound restrictive to some, it is actually surprisingly liberating.
To relax on a normal holiday, you need to research where you're going to go, find your accommodation, factor in timings, worry about costs, try not to get lost and figure out if you're going to get charged for using the loungers.
On Wonder of the Seas, you can forget about all of that, knowing the biggest ship in the world and its army of staff have got it all covered for you.
It's like spending a week in a shopping centre, except instead of being horrific, it's lovely. You're not in a rush, you're not surrounded by frowns and phone shops, you're not sweating under your puffer coat; you're strolling around with a mojito in hand, surrounded by smiles and slides, sun on your skin and sea breeze in your hair (if you have it).
Like Groundhog Day, but you're reliving the best day over and over, making small adjustments as you see fit. Like putting on sun cream, in my case.
Wake up, head to a breakfast buffet or have it delivered to your room, look out at the sea for a bit, choose a pool to bathe by, grab your first margarita or piña colada of the day, have a go on the surf simulator, resolve to definitely go on the surf simulator before the cocktails tomorrow, get off at whatever island you've arrived at, snorkel or zipline, continue getting value on that deluxe drinks package, have a shower or go to the jacuzzi, dress up however fancy you like for the evening, pick a cuisine, keep drinking, watch a show or the wannabe performers at the karaoke, contemplate getting an early one, have another cocktail, do the worm, go to the casino.
Wake up, and repeat. Maybe I should have doubled up after all.
Featured Image Credit: LADbible
Topics: Travel