BBC announces Match of the Day will have no presenters tomorrow night
Saturday's Match of the Day will not have a presenter after several pundits pulled out of the show, a BBC spokesperson said.
The BBC said on Friday that it had decided Lineker would take a break from presenting the highlights programme until an 'agreed and clear position' on his use of social media had been reached.
Lineker, 62, has been embroiled in a row over impartiality after comparing the language used to launch a new Government asylum policy with 1930s Germany on Twitter.
"Everybody knows what Match of the Day means to me, but I've told the BBC I won't be doing it tomorrow. Solidarity," he said.
Former footballer and pundit Shearer followed shortly after, tweeting: "I have informed the BBC that I won't be appearing on MOTD tomorrow night."
Retired England goalkeeper Ben Foster and Soccer Saturday presenter Jeff Stelling both expressed their support for the move.
Commenting on Shearer's Tweet, George Lineker, the son of Gary, said "what a man" and then added in a separate Tweet: "RIP MOTD tomorrow."
The BBC has now said this Saturday's show will 'focus on match action without studio presentation or punditry'.
A spokesperson said 'some of our pundits have said that they don't wish to appear on the programme while we seek to resolve the situation with Gary', with many Match of the Day figures taking to social media to rule themselves out of keeping Lineker's seat warn until his return.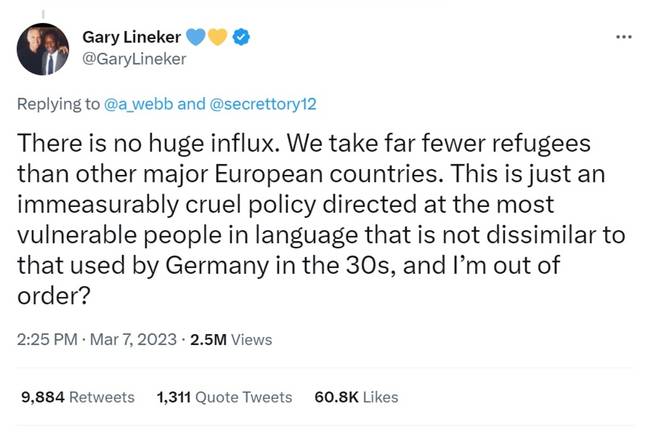 A number of former BBC presenters have also voiced their support for Lineker, including Jeremy Clarkson and Richard Osman, while plenty of other figures in sports media have likewise indicated their respect for Lineker, Wright and Shearer.
Lineker has presented Match of the Day since the 1990s and been joined by a whole host of famous faces from football over the years.
After his beloved Leicester City won the Premier League he appeared on the show shirtless, fulfilling a promise he'd made to present Match of the Day in his pants if they actually went and won it.
In the broadcast he called out the host nation for their appalling record on human rights and FIFA's corruption in awarding them the tournament in the first place.