Man's proposal to girlfriend during MLB baseball game goes horribly wrong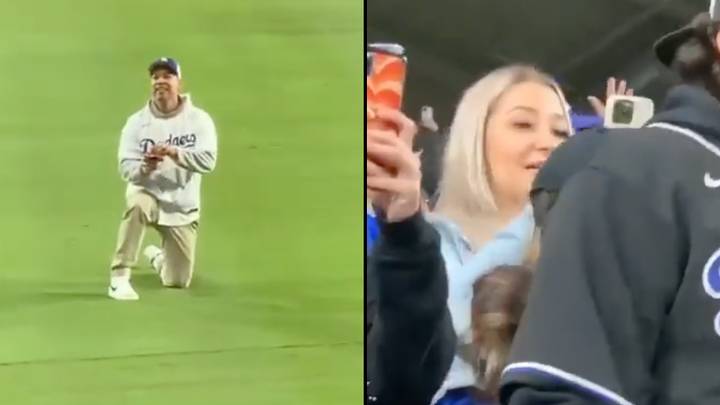 A man's elaborate marriage proposal on the field at a baseball game ended up going horribly awry. You can watch what happened below:
There are some massively differing schools of thought when it comes to big elaborate proposal ideas.
Some people find them incredibly sweet and romantic, showing that the person is willing to shout their love right from the rooftops, but others find them tacky and overblown, lacking in a bit of subtlety, and possibly even a little bit attention-seeking.
Well, if it was attention that this guy wanted, he sure got it.
He also got absolutely battered by the security guards at Dodger Stadium at the time.
That's because he decided to run onto the field during the LA Dodgers' opening night Major League Baseball fixture before dropping to one knee, appearing to propose to someone who must have been in the crowd somewhere.
It's not clear how he planned to receive the answer from his beau, given that there was a full cheering crowd, a baseball ground organ, and a load of distance between them.
However – as you'll surely agree – there's a few things that he didn't account for.
Chief amongst those things was the security guards who diverged on him from all corners of the stadium, with one of them laying him out with a classic side tackle.
Bone-crunching, I think they'd call it in rugby or American football.
The poor lad never stood a chance.
Obviously, the video has since gone viral, so we might actually have a chance of finding out what happened afterwards.
You can't say no to a marriage proposal from a guy willing to take on security guards at a MLB baseball fixture for you, right?
If he wasn't carted off to jail – or the hospital – after that, we might one day get our answer.
People have been queuing up to comment on the video since it was posted online by a variety of people.
One wrote: "Hope she said yes."
Another said: "That is a great tackle."
A third commented: "My man went full HOF-level linebacker on that tackle. 10/10. No notes."
Let that be a lesson to you – the elaborate marriage proposal might look great in your head, but whether figuratively or actually, there might always be a huge man coming in unexpectedly from the side, ready to absolutely deck you.
There's something for us all in that nugget of wisdom.