The Strongest Brothers On Earth Have Been Challenged To Try Rhythmic Gymnastics And Other Sports
Sponsored by
Birmingham 2022 Commonwealth Games
The Stoltman Brothers are two of the strongest men on earth. They spend their days lifting dumbbells, trucks and carrying 200kg atlas balls with the same ease as holding a shopping basket. They also eat enough meat to feed a family of four. But all that is about to change.
On the eve of the Birmingham 2022 Commonwealth Games, which get underway on July 28, Luke and Tom Stoltman face perhaps their biggest test. The strongmen, who are unofficially the strongest brothers on earth, have been challenged with turning their sizable hands to a host of different sports.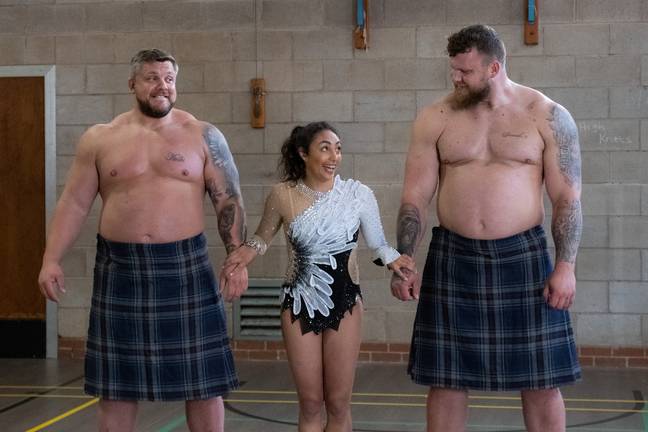 In this one-off challenge, the boys test their skills in rhythmic gymnastics, cricket, basketball, judo, diving and hockey. That will be easier said than done for two men who weigh a combined 340kg - that's heavier than an average male grizzly bear.
You can see how they got on in this video as they were taught the basics of rhythmic gymnastics by Team England gymnast Mimi Cesar and then challenged to perform a routine all of their own. If you're a stranger to the sport, coordination, flexibility and agility are a must, as is the ability to use ribbons, hoops, balls and ropes to put on a performance and wow the judges.
In our video you can see the size of the challenge dawn on the faces of the brothers as they witness the flexibility needed to prance and dance their way across a sports hall and stretch their heavy, muscled limbs in new directions. With a grimace on his face, Luke predicts that he "might tear a hamstring" as he watches the demonstration from an expert.
But, the brothers aren't men who shy away from a challenge. Ribbon by ribbon, forward roll by forward roll, the pair get to grips with learning new skills and unearth some new talents. They even immerse themselves into the glitz and glamour of rhythmic gymnastics by donning tartan kilts and floating across the room with a ribbon and balletic grace.
The challenge is all part of the build-up to the Birmingham 2022 Commonwealth Games, the biggest multi-sport event in the UK since the 2012 Olympics. Athletes and teams from 72 nations and territories compete for medals across 286 sports sessions and 19 different sports between Thursday, 28th July and Monday, 8th August.
While Birmingham is the host city of the games, events will take place at 15 venues in nine different towns and cities across the UK. Last time around Australia topped the medal table with 198 medals, with England in second on 136.
Featured Image Credit: Credit: Birmingham 2022 Commonwealth Games