Reason why Ancient Greek statues were purposely given unusually small penises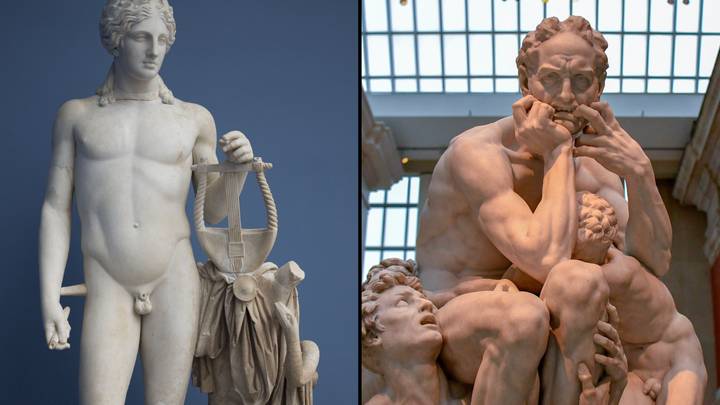 Ever seen a statue of Poseidon or Hercules and wondered why their packages are so compact?
Well, it's not a mistake nor the work of a jokester sculptor - Ancient Greek statues all depict men with intentionally small penises and the reason is far from what you'd think.
Talk about the change in beauty standards. Check out one explanation here:
While these limestone and marble-made men are sporting muscular arms, washboard abs and usually a more than satisfactory head of hair - it seems that there's one thing missing from the full package, pardon the pun.
Such statues usually boast a towering physique but not all of their body is proportionately as big.
Art historian, Andrew Lear, a specialist in Ancient Greek art and sexuality explained the bizarre logic behind the phenomenon.
"They have small to very small penises, compared to the average of humanity," he began, before noting that the members are also 'usually flaccid'.
Back in the day, circa 400 BC, it's clear that the ideal body type was very different to what it is today.
Unlike how it seems to be nowadays, large and erect penises were the ultimate fashion faux pas in the days of Ancient Greece.
Such trends can be evidenced by artistic works that came out of that period.
In the play, The Clouds (c. 419–423 BC), the playwright Aristophanes attempted to list the very best physical traits of the men around him.
Such characteristics included: "A gleaming chest, bright skin, broad shoulders, tiny tongue, strong buttocks, and a little pr*ck."
Not only was it considered physically more attractive, but a degree of morality and intelligence was also attributed to the beholder of a 'little pr*ck'.
Historian Paul Chrystal sought to understand the concept some more, publishing his findings in his book In Bed with the Ancient Greeks (2016).
The historian found: "The small penis was consonant with Greek ideals of male beauty.
"It was a badge of the highest culture and a paragon of civilisation."
Oh how the times have changed.
The 'tiny pr*ck' brigade was so strong that it even shamed the people who happened to be more well-endowed.
They were branded as morally compromised, lustful and barbaric - just to name a few insults.
"Big penises were vulgar and outside the cultural norm, something sported by the barbarians of the world," Chrystal explained.
Such blokes were even likened to animals, with the historian pointing to large penises as 'the sign of stupidity, more of a beast than a man'.