Teen born with 'Werewolf Syndrome' was covered in hair immediately after being born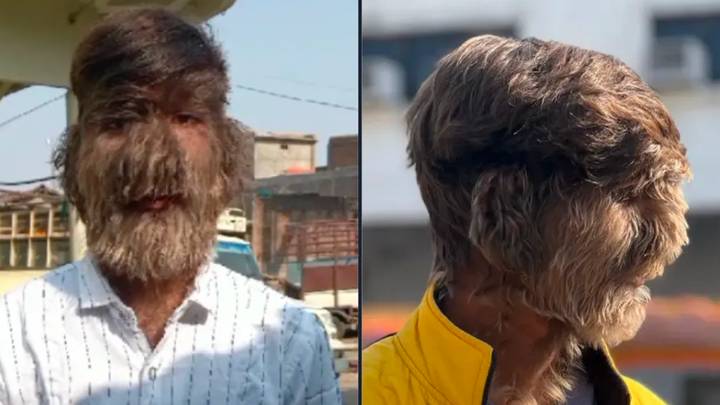 A young boy who was born with his entire body covered in hair says he's learned to embrace his uniqueness.
Lalit Patidar, from the village of Nandleta in Madhya Pradesh, India, has a condition known as 'werewolf syndrome'.
The incredibly rare condition affects just a handful around the world, with fewer than 50 people thought to have it.
Its scientific name is Hypertrichosis Lanuginosa, and it's a congenital disorder that causes someone to grow excessive amounts of hair all over their body, including their face.
"I saw him half an hour after the birth and his whole body was covered in hair," recalled Lalit's mum, Parvatibai.
His dad, Bankatlal, said: "The nurse was startled when she saw him. She called the doctor in and asked him what was wrong.
"The doctor said not to worry, he's fine. The doctor didn't do anything, he just shaved his hair and that's all."
He added: "It doesn't grow longer or get shorter; we tell everyone it's a birth defect."
Sadly, as he got older, Lalit suffered bullying from kids at school.
"I was not upset when the hair started to grow because I was very young at that time, but my family members and my parents used to worry a lot about me," he said.
"Small children used to get scared seeing me, and as a child I did not know why. As I grew up I realised that my whole body had hair and that was not like everyone else.
"Kids were worried I would come back to bite them like an animal."
A friend of his said that other children would pick on Lalit because he was different.
He recalled: "I was shocked and scared when I first met him.
"My grandfather told me not to worry; he said, 'He's just like anyone else'. So I wasn't scared anymore, and then we became friends.
"When we used to walk around, the other kids would mock him and call him 'monkey'. They used to throw stones at him."
Lalit said that despite all the bullying and name-calling he has suffered in the past, he's always tried to remain positive.
"I slowly realised that I have hair all over my body and I am different from common humans in a good way, I am unique," he said.
"Slowly, everyone in my family started feeling normal about it and my friends also encouraged me a lot.
"I got to learn many things during my journey, most importantly I got to learn that I am one-in-a-million, I should never give up and live life to the fullest I always want to move forward and be happy.
"No matter what others may say we should never give up in life, we should always be happy and always be positive in life.
"In the end, I just want to say that you should always respect all people, no matter how a person looks, he may have any disease.
"It is important to be happy but to also keep others happy."