Beyoncé actually has to tell London audience to stop singing during performance
Beyoncé's Renaissance World Tour has kicked off and fans have been loving every minute of it.
However, it seems in the UK that our primary school assembly experience has come as a bit of a shock for Queen Bey as the crowd's enthusiasm took over the show.
While performing at the Tottenham Hotspur Stadium for London day 1, the pop star commanded the audience to sing with her for her hit song 'Love on Top'.
Featuring flashy moves and a sparkly number, Beyoncé and the attendees sang their hearts out to one of her most popular tunes.
It's safe to say the London crowd made the number their own and used up years of practice for just a few lines.
In a TikTok video shared by user @icantreid, you can see the moment the 'Single Ladies' hit-maker was unexpectedly shown up at her own concert.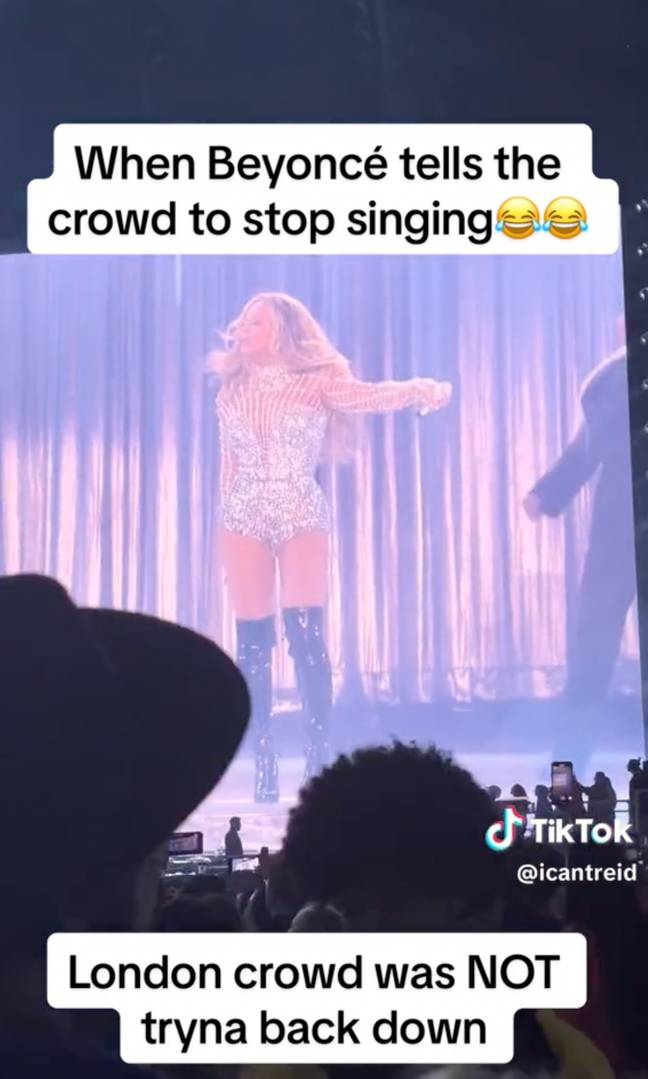 In the clip, the music was switched off and the audience was allowed to take centre stage while Beyoncé hyped everyone up to keep singing, until it reached the end of the chorus when she realised that they just might never stop.
Beyoncé said into the mic: "I better stop y'all cause y'all gon' keep going."
Little did she know that she was probably correct and the crowd burst into laughter.
The popular video has been doing the rounds on social media, racking up 197.8 thousand likes and hundreds of comments.
One noted that UK audiences were a different breed of crowd singers by writing: "The world doesn't realised that 9am school assembly trained us for moments like this."
While another admitted that she was one of the participants, sharing: "I'm not ashamed to say I was one of the voices."
Though the world-renowned singer seemed shocked at how our passionate crowds are, one person said that maybe she should have expected it.
They wrote: "She literally said sing with me." And sing with her they did.
As Beyoncé began her world tour in the UK last week, she visited the likes of Cardiff, Edinburgh and Sunderland before being welcomed by the loud London audience for a crazy five nights of fun.
With forty of the best tunes in the set list such as 'Dangerously In Love', 'Cuff It', 'Formation', and 'Diva', can you really blame anyone for singing at the top of their lungs?
After her amazing time in London concludes, Beyoncé is due to go to France, Germany and Amsterdam next to continue her world domination and sharing the best hits with everyone in the BeyHive.
Though it's a long tour, starting on the 10 May and ending on the 27 September, there's still no doubt that the audience at the Tottenham Hotspur Stadium will continue to be the best singers Beyoncé has ever heard.