​John Lewis' Christmas Advert Is Here And It's Right In The Feels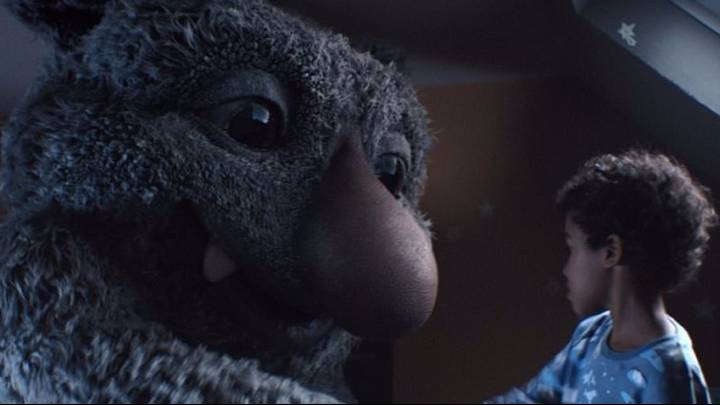 You know it's Christmas when one of two things happen. One: you start feeling the urge for pigs in blankets, getting lashed at 9am and pretending you like that jumper your nan bought for you. Two: the John Lewis Christmas advert lands.

'Tis the season. Here's the ad in all its glory:
As usual, the ad, 'Moz The Monster', is right in the festive feels.
It is set to a cover version of The Beatles' song 'Golden Slumbers', recorded by British band Elbow.
The two-minute advert tells the tale of a little kid called Joe, who is kept awake by a 7ft imaginary monster called Moz who is living under his bed. Sounds a bit trippy if you ask me.
Joe and Moz are top LADs and form a friendship and play together every evening, but staying awake through the night starts to take its toll on Joe, who can hardly keep his eyes open during the day. Sounds like a standard Xmas on the piss.
For Christmas, Joe receives the perfect gift of a night light which helps him finally get some peace and quiet from Moz, and a good night's kip.
Just as you think the ad has come to a close, Joe turns the light back off and hears the familiar rumblings of his friend and is reminded that he can bring Moz back any time he thinks of him.
The ad is directed by Michel Gondry, who also directed the Eternal Sunshine of the Spotless Mind, The Science of Sleep and The Green Hornet. He has also directed legendary music videos for Bjork, Daft Punk, the White Stripes and the Rolling Stones.
Gondry said: "When I told my ex girlfriend I was doing the next John Lewis Christmas film she said, 'You have big shoes to fill, this John Lewis commercial must make people cry, don't forget.' Last week I showed it to her and she cried. Phew."
Craig Inglis, John Lewis' Customer Director, added: "This year's Christmas campaign brings to life the power of children's imaginations and the joy of great friendships.
"Moz and Joe's story is magical and heartwarming and I'm sure it will be loved by all of our customers, young and old."
The advert will first be shown on TV this evening at around 9.30pm on Channel 4. It will also be broadcast on all Sky's own channels at approximately the same time.