Sly Stallone Is Back In The Gym At The Age Of 72 - And Looking Good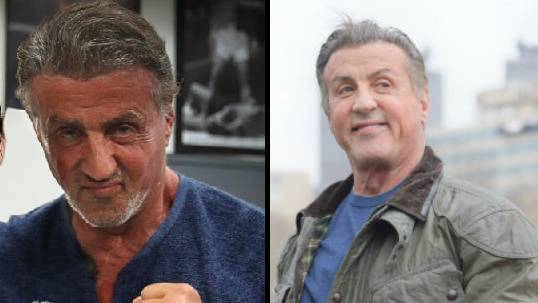 Sylvester Stallone is no stranger to the gym. He's been an action star for over 40 years and every one of his characters, from Rocky to Rambo to Barney Ross in The Expendables, has been - to use the parlance of our times - hench.
He's been there and got the low neck tank top, from the bulging muscles to the steroid arrest (in Australia in 2007).
Amazingly, at the age of 72, he's still going and, if you'll excuse the pun, still going strong.
Over the last year, Sly has been deep in training for Creed 2, the latest movie in the Rocky saga - this'll be the eighth - and has hit the gym as he reprises his most famous role.
"Another easy workout! You're only as old as you and your joints feel! LOL," posted Sly on his surprisingly entertaining Instagram account, showing him doing chin-ups with a 100lb weight hanging from his waist.
In fact, his Insta is a litany of hilarious Rocky jokes and gym humour, something that has only increased as the release of Creed 2 approaches.
Particular highlights include a photo with Dolph Lundgren - aka Ivan Drago from Rocky IV and the forthcoming Creed 2 - with the caption: "Last week in LA with my great old friend ... We are Always ready to battle..."
Another has him in character as Rocky, boxing gloves and all, being pummelled by Hulk Hogan in a still from Rocky III, captioned: "Some stunts are up close and personal and hurt! Here is a perfect example of working with a great and immensely powerful athlete @hulkhogan."
Stallone is one of the biggest boxing fans out there and his Instagram feed shows just how respected he is in his favourite sport as well.
There are photos of Sly with a veritable who's who of the top of the fight game: Vasily Lomachenko, Manny Pacquiao, Deontay Wilder, Lennox Lewis, Gennady Golovkin, Evander Holyfield... I could go on, but you get the point.
Stallone is fond of posting old photos of himself and his movies, often showing his supreme physical condition when in character, so perhaps it is best to leave the last word to him.
"Time to try to get back into action movie shape!" he writes along a set of images from the original Rambo movies. "Even though it's almost an impossible dream you just got to keep going forward.
"You're only as old as you feel. The brain is a muscle that should never ever stop being worked out!"
At the age of 72, he's certainly trying to make that true.