Happy Valley viewers 'lost for words' at Sarah Lancashire's performance in latest episode
Warning! Potential spoilers for Happy Valley below!
It might have been away for years but the third and seemingly final season of Happy Valley is living up to viewer's expectations magnificently.
Fans have loved returning to the show seeing how everything has moved on years later, and how some things have stayed constant no matter what.
One of those comforting constants is Sarah Lancashire's performance as Catherine Cawood, a highly decorated police officer now nearing retirement and dreaming of life after the job.
Of course the job is nowhere near done with her after the discovery of a long dead body with a connection to Tommy Lee Royce (James Norton), a chillingly murderous psychopath who raped Catherine's daughter and got her pregnant.
While her professional life is dogged by the discovery of the body and there still being major crimes left to solve, Royce overshadows her personal life as grandson Ryan (Rhys Connah) seems determined to have some sort of connection with his father.
This might seem crazy considering Ryan's dad doused him with petrol and threatened to set the both of them on fire at the end of the first season, but nothing is ever truly straightforward in Happy Valley as Catherine discovered recently.
Getting suspicious about her sister Clare (Siobhan Finneran), Catherine decided to follow her and realised she was taking Ryan to visit his dad in prison.
Calling her sister for a chat about honesty, Clare decided to lie to Catherine only to moments later find her sitting down in front of her for some real talk, setting up the mother of all confrontations.
Viewers of the BBC drama may have had to wait a whole week to find out what happens next but none of them have gone away disappointed, largely owning to a brilliant performance from Sarah Lancashire.
Fans have praised Lancashire for turning in an 'insanely good' performance and begging everyone involved with Happy Valley to stay on for a fourth series because it's just too good to say goodbye.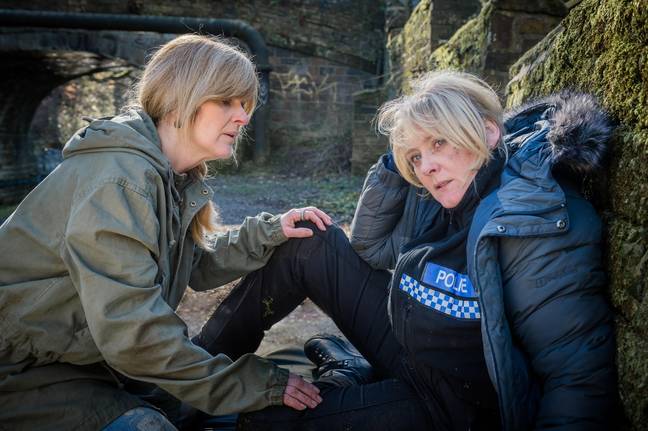 The cafe confrontation scene set up between the sisters didn't disappoint as fans said it was 'no shouting just pure drama' and 'obviously brilliant', while plenty were blown away with the performances as one said 'Sarah Lancashire just wow'.
The acting between Lancashire and Finneran was dubbed by viewers as 'a dream TV duo I don't want to see end', but sadly end it surely must at some point.
Whether Catherine will take that retirement she's been looking forward to or will find a reason to stick with the police, we'll all just have to wait until the end of Happy Valley to find out.
Happy Valley continues on Sundays at 9pm on BBC One, with episodes also available to watch on BBC iPlayer.