James Corden gets emotional as he says goodbye to The Late Late Show after eight years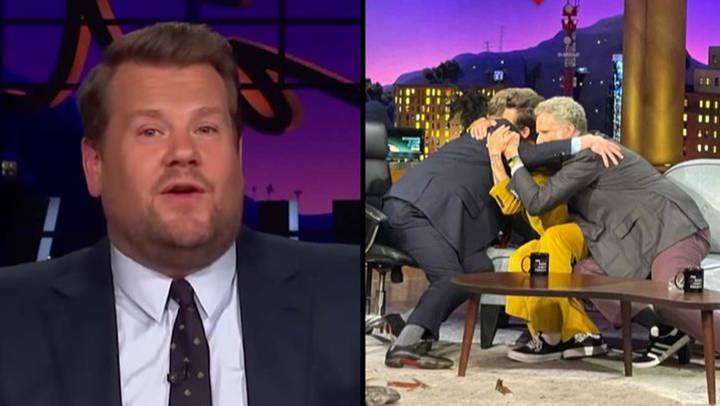 Emotions have been high as James Corden bids farewell to the US.
The British talkshow extraordinaire has hosted The Late Late Show for the last eight years and dazzled us with every episode.
He well and truly switched up the game for the American talkshow circuit by introducing Carpool Karaoke.
Not only that, but the segment has seen some really eye-opening moments from A-listers.
Food is a strong word there.
After eight years and 1,200 episodes, it's all coming to an end.
But, the three shared a hug on the show's couch and there wasn't a dry eye in the house.
Many have wondered what the tipping point was for Corden for him to say goodbye to the programme and the United States.
There have been a lot of rumours, but he revealed earlier this week that it was all because of his family.
While some might be apprehensive about a big move like this, James is cool, calm and collected.
Speaking to Zoe Ball on Radio 2, he said: "I feel good about it, I just know in my core its right thing to do for so many personal and professional reasons.
"We're really gonna try and go out with a bang, the last few shows we've done has been brilliant, the atmosphere in the studio is great, we've got some really big guests come down and do stuff, tomorrow's show is gonna be great!
"I wanna cherish it and not spend the whole day crying, I wanna feel the pride and gratitude for it all."
He likened it to the end of another massive show he was a part of but there was one big difference.
"It's a strange one, I haven't really felt like this before," he said.
"I remember when we did last episode of Gavin and Stacey, I remember sitting with Ruth jones and crying, but that was done in blocks, we'd film it, go off and then come again.
"But The Late Late Show has been a pretty consistent, it's been eight years."