People Still Strongly Believe Will Smith's Slap On Chris Rock At The Oscars Was Staged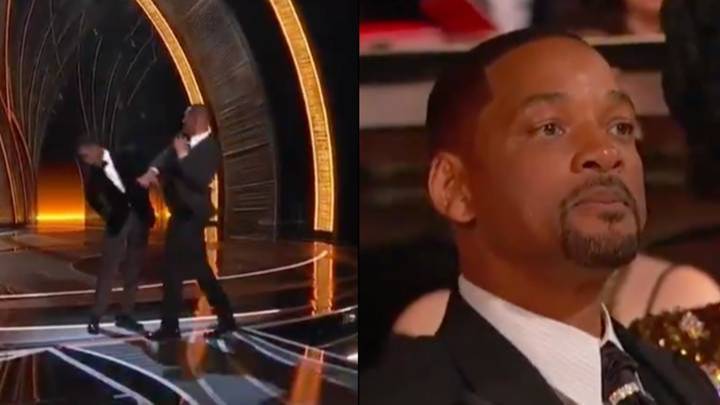 The dust is only just settling on that moment from the 2022 Oscars and yet people are still divided over what truly happened.
Will Smith has since apologised for slapping Chris Rock in the middle of the glitzy awards ceremony.
The footage of the jaw-dropping slap has gone viral around the world and it's being analysed by everyone.
Despite the apology and despite the Academy Awards organisers launching a formal review into what happened last night, many people on social media still genuinely believe the whole thing was staged.
The word 'staged' trended on Twitter and tens of thousands of users took to the site to give their two cents on how the slap unfolded.
Always liked Chris Rock but this whole thing was staged.

— Jesus Nation (@Jesus_Watch) March 29, 2022
Will Smith slap was staged. The Oscars have been losing viewership YOY and this was a great way to get attention and exposure! prove me wrong...

— Ran NeuNer (@cryptomanran) March 28, 2022
People were sharing a breakdown of Chris Rock's body language as Will Smith approached him on the stage to try and prove their point.
They've accused the comedian of having the telltale signs that he was ready to be hit.
But an actual body language expert has chimed in to explain pretty much every single movement that led up to that slap.
Darren Stanton, whose nickname is the 'human lie detector', believes Smith simply could not have faked 'that level of emotion'.
Speaking on behalf of Slingo, Stanton said: "The joke targeting Jada's shaved head following her battle with alopecia, clearly made her uncomfortable and she showed signs in her face of awkwardness and disdain after being embarrassed in front of her peers and the world.
"Will, on the other hand, made a slightly loose laugh and leant back in his chair, which is a sign of tension or uneasiness."
Stanton said Rock's stance on stage showed he clearly 'wasn't expecting what was about to happen', and that there were signs he may have thought the confrontation was a 'prank'.
He explained: "With his hands behind his back, he displayed a position of authority, like many police officers, politicians and other empowered people stand in certain situations.
"He was also exposing most of his body and vital organs, a sign that there didn't seem to be any imminent danger so he must have thought it was going to be a prank.
Stanton concluded: "There's been a number of theories online that this confrontation was staged, however, gauging from the degree of anger that Will Smith was displaying, this was 100 percent genuine. You cannot fake that level of emotion."
That sounds pretty comprehensive in terms of what happened.
A spokesperson for ABC also told Variety that Chris Rock's G.I. Jane joke about Jada's bald head was also ad-libbed, meaning it certainly wasn't a part of the comedian's script.
Will Smith has apologised to Chris Rock in a formal statement on social media, where he admitted he 'was out of line'.
"I am embarrassed and my actions were not indicative of the man I want to be," he said on Instagram. "There is no place for violence in a world of love and kindness."