Woman in tears after reaction to her 'love surge' video with husband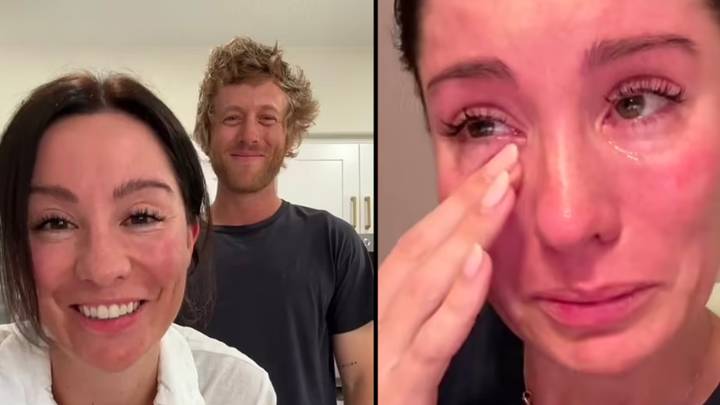 A popular TikToker was left in tears at the reaction she got from certain viewers after she shared a video with her husband demonstrating a 'love surge'.
Lillian Wilde has gained thousands of followers on TikTok by sharing cute insights to her marriage with her husband, Sean Kolar.
Last month, the pair decided to catch on camera what they described as 'the cringiest, most coupley thing ever' - a 'love surge'.
"We do this when one of us has like so much love in our limbs that we can't contain it," Lillian said.
In the background of the video, Sean began to jiggle and shake before enveloping her in his arms, as she explained: "He's gonna wrap around me and shake with the electricity of love until I catch it too and start shaking, and then you explode with a love surge."
The video has received almost seven million views, but it's the comments that caught Lillian's attention after she posted the video.
Trolls flooded Lillian's video with hurtful responses, with some going as far as to wish one member of the couple would 'cheat' on the other.
"This video made me consider breaking up with my boyfriend just to make sure I never risk experiencing a love surge," one person wrote.
Another commented: "I need a love surge repellent."
The TikToker responded to the hate in another video shared last week, in which she made clear she could take a joke about herself, but that some of the comments were 'really mean'.
Left in tears over the replies, Lillian said: "If the goal was to make me sad, you did it, you won."
Thankfully, there have been numerous TikTokers who have showed support for Lillian in the wake of the 'rollercoaster' that took place after she shared her initial video, with many hitting back at the trolls and insisting the 'love surge' was 'cute'.
Lillian and Sean have shared a follow-up video to thank those who have shown kindness and sent 'sweet DMs' after she shared her emotional post about the comments.
Alongside the video, Lillian wrote: "I'm actually overwhelmed with how many people sent me nice messages or comments and encourged [sic] me to protect our joy. love surge forever lol."
"I hope there is someone in your life that makes you feel love like this, and if you havent met them yet, i hope you meet them soon. sending you a big love surge."