Emily Blunt claims Tom Cruise told her to 'stop being such a p***y' while filming Edge of Tomorrow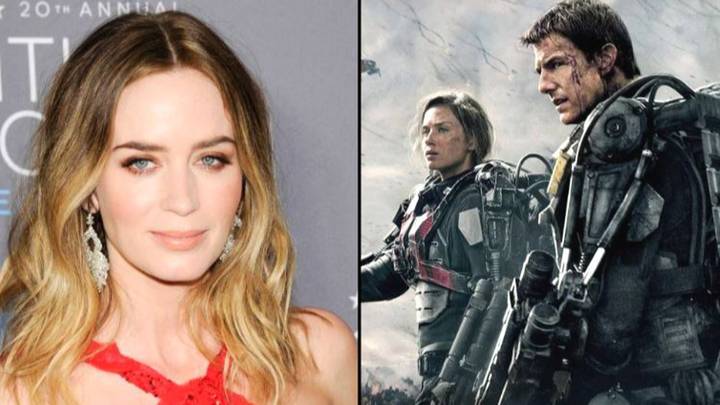 Tom Cruise allegedly told Emily Blunt to 'stop being such a p***y' while filming Edge of Tomorrow.
The movie sees Cruise star as Major William Cage, an officer who has never seen a day of combat, when he is dropped into a suicide mission.
"Killed within minutes, Cage finds himself inexplicably thrown into a time loop—forcing him to live out the same brutal combat over and over, fighting and dying again...and again," the synopsis reads.
"But with each battle, Cage becomes able to engage the adversaries with increasing skill, alongside Special Forces warrior Rita Vrataski (Blunt)."
The epic sci-fi flick was released back in 2014 and received a very solid 91 percent by Rotten Tomatoes critics.
However, in a recent episode of Apple podcast SmartLess, Emily Blunt opened up on her difficulties on set and how Tom Cruise would show some 'tough love' to motivate her to get through scenes.
"We had to wear these enormous suits, which I think would've been great if we had CGI'd them but we wanted to do it in a tactile way," she said.
"When you hear the word tactile you think that sounds nice and cosy; there was nothing cosy about these suits.
"It was like 85lb, it was so heavy. The first time I put it on I started to cry and [Tom] didn't know what to do.
"He just stared at me and was like 'I know, I know', I was like 'Tom I'm not sure how I'm going to get through this shoot' and just started to cry.
"I said 'I'm feeling a bit panicky about the whole shoot'.
"He just stared at me for a long time, not knowing what to do, and he goes 'come on, stop being such a p***y, OK?'."
In an interview with The Telegraph, Blunt said: "I love a character with a secret. And I loved Cornelia's buoyancy, her hopefulness, her guilelessness."
"It's the worst thing ever when you open a script and read the words 'strong female lead'.
"That makes me roll my eyes – I'm already out. I'm bored.
"Those roles are written as incredibly stoic, you spend the whole time acting tough and saying tough things."