Anonymous Says It's Hacked Printers 'All Across Russia' To Print Out Anti-Propaganda Messages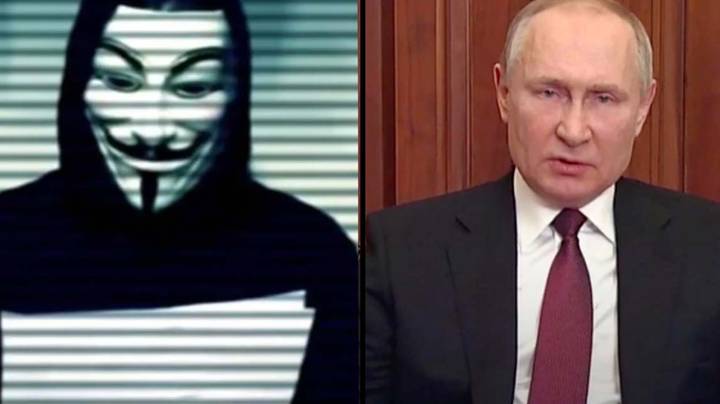 Anonymous says it's hacked into unsecured printers across Russia in order to print out 'anti-propaganda' messages about the Ukrainian invasion.
A member of the collective, whose Twitter handle is @DepaixPorteur, tweeted: "We have been printing anti-propaganda and tor installation instructions to printers all over [Russia] for 2 hours, and printed 100,000+ copies so far. 15 people working on this op as we speak."
@DepaixPorteur told International Business Times: "We hacked printers all across Russia and printed this PDF explaining that Putin/Kremlin/Russian media is lying and then we instructed how to install Tor and get around their censorship to access real media."
The member also tweeted: "We're currently launching a printer attack on 156 [Russian] printers. Already over 40,000+ copies."
A Google Lens translation of the doc read: "Citizens of Russia, act now to stop terrorist[s]. Putin killing over thousands in Ukraine."
It also says that 'the people of Russia should find horror in Putin's actions'.
The statement suggests that Putin started the war because of 'borders and fear of the West,' and not over Ukraine.
The last paragraph notes: "A wad of paper and ink is a cheap price for the blood of the innocent."
The documents also encourages Russians to fight for 'heritage and honor, overthrow Putin's corrupt system that steals from your pocket'.
Last week (15 May), Anonymous claimed it had taken out Russia's national security agency as part of its ongoing efforts against Vladimir Putin's attack on Ukraine.
Via Twitter, the hacking group wrote: "Russian sites under attack [Tango Down]," the latter statement relating to military slang meaning an enemy has been defeated in combat.
Among the sites Anonymous claims to have took down are Moscow.ru, Russia's Federal Security Service (FSB), Analytical Centre for the Government of the Russian Federation, and the Ministry of Sport of the Russian Federation.
Anonymous also released a chilling warning to Putin, telling him his 'secrets may no longer be safe'.
In the clip, which is directly addressed to Putin, a masked figure said: "Mr Putin, the ongoing invasion of Ukraine has shown that your regime has no respect for human rights or the self determination of your neighbours.
"In the past several days a full scale invasion has commenced, civilian neighbourhoods have been bombed and innocent people have been killed.
"Refugees are fleeing the violence and the population is being forced into conscription by Ukrainian officials.
"This is an ugly situation all around but you are the instigator."
If you would like to donate to the Red Cross Emergency Appeal, which will help provide food, medicines and basic medical supplies, shelter and water to those in Ukraine, click here for more information.