Boy, 6, mauled to death by lion after climbing inside zoo enclosure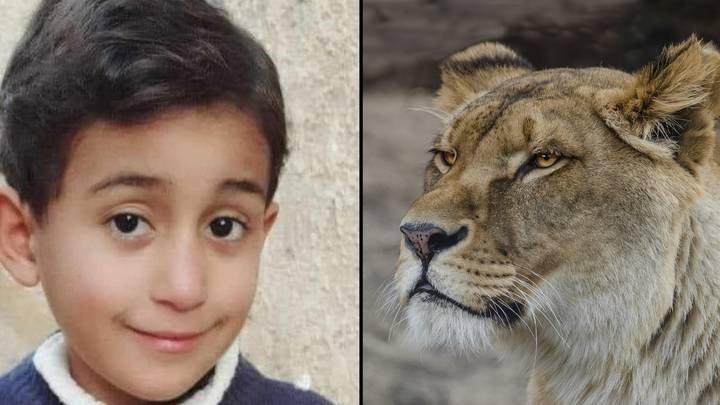 A six-year-old boy has tragically been killed after climbing inside an enclosure, authorities have confirmed.
Little Hamada Iqtiet had clambered into the lion's pen at a private zoo in Gaza, Palestine, according to police.
They said an investigation is now underway, with the boy's family at Asdaa Park Zoo, located in the southern town of Khan Younis.
However, the boy's family disputed details about what happened, saying Iqtiet had been with his mother and other family members when he moved close to an outer fence where the lion was standing, which was when he was attacked.
Police have confirmed an investigation is now underway, with the park currently closed by authorities.
The incident is believed to be the first known fatality from animals kept at private zoo facilities in Gaza.
There are reportedly a number of such zoos in the territory, many of which have allegedly faced neglect, starvation and lack of medical care amid conflict between Israel and Gaza's Hamas rulers.
Animal welfare group Four Paws has been working to rescue animals from the area over the past few years, including 15 that it removed from the Khan Younis Zoo back in 2016.
Dr Amir Khalil, Director of Reveal and Rescue Response, said at the time that the conditions there were 'very far from ideal', saying the zoo had suffered financial difficulties.
Three years later, the Vienna-based charity rescued 47 animals including lions, wolves, baboons and ostriches from another struggling zoo in Rafah.
Four Paws says on its website: "Over 40 animals were suffering in Rafah Zoo, Gaza.
"At the beginning of 2019, Gaza's oldest zoo attracted worldwide attention.
"Four lion cubs froze to death there due to the harsh weather and poor keeping conditions.
"Only a few weeks later, a 14-month-old lioness was permanently mutilated by the brutal and unprofessional removal of her claws.
"Almost 150,000 people demanded immediate action - and fortunately, we were able to follow that call."
Speaking to NPR that year, Khalil – who was born in Egypt and has been based in Austria for the past three decades - said: "We go to places where the logic doesn't exist.
"The government doesn't exist. No one cares. And where no one will believe you are coming to save animals.
"You see everyone escaping from a city like Mosul [Iraq], going out. Thousands and thousands. And you are the only car going the other way around. You are going inside."