Cillian Murphy Explains Why Tommy Shelby Rubs Cigarette On Lips Before Smoking It
*WARNING: CONTAINS SPOILERS*
Cillian Murphy has revealed why Tommy Shelby rubs cigarettes on his lips before smoking and there's a pretty good reason behind it too.
With the latest season of Peaky Blinders well underway, viewers have been reacquainted with a much-changed Tommy Shelby, who has now quit drinking.
However, the one thing that remains the same is the way the character smokes his cigs.
Murphy explained to BBC that he rolls the cigarette filter in such a way, so that it doesn't stick.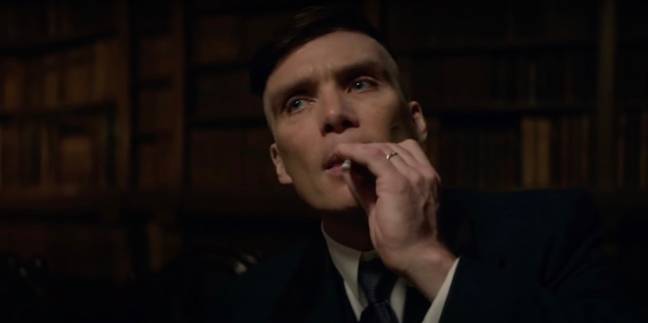 He said: "That comes from the fact that the cigarettes, we cut the filter off or do we leave the filter on I cannot recall, but anyway if you don't rub them across your lips initially, they will stick.
"That just became this sort of idiosyncrasy but it was out of necessity, because otherwise the cigarettes would stick to my lip and I just kept doing it and it became a Tommy thing.
"These things develop over the course of the show you know."
He also pointed out how Tommy is almost never seen eating throughout the entirety of the show.
He added: "I remember we had gotten through the first two series and then we realised that Tommy has never eaten.
"We've never seen Tommy eat.
"Like he sat down at tables but has never consumed a morsel, so then we made it a kind of a running gag.
"So throughout the 36 hours of television Tommy Shelby never consumes anything except I think once he consumes a sprig of mint when he's with his son."
Well, the first episode of the new season was always going to be sad and strange without the captivating performances of Helen McCrory, who played matriarch Polly Gray.
The actor tragically passed away last year aged 52, but her presence lived on in the first episode of season six.
In a beautifully shot funeral scene, she is laid to rest alongside her portrait, as the camera pans between the grief-stricken faces of her family members.
As the fire blazes, we follow the smoke up into the air, where Polly's eyes can be seen looking down from the sky above.
The moving scene touched viewers, with one tweeting: "Poignant moment in #PeakyBlinders showing Aunt Polly's (Helen McCrory) portrait in the middle of the screen and showing it slowly being cremated with the cast watching on."
Another said: "No no no not Polly I'm sobbing obviously I knew this would happen but my god #PeakyBlinders."
A third wrote: "OMG THATS HOW THEY GOT RID OF POLLY #PeakyBlinders."