A Resort In The Maldives Is Offering Luxury 'Workations' By The Ocean
If you're the sort of person who has been working from home for ages, how about shifting your office all the way to the Maldives, where your office can be a beachside resort?
Yeah, sounds pretty alright, doesn't it?
Well, if that's your thing, The Nautilus Maldives resort is offering exactly that, and they're calling it a 'workation'.
Basically, you can do spreadsheets by the seaside and conduct meetings in on a private beach, which sounds like the sort of place where you can get a load of stuff done without any distractions.
Other than, of course, the fact that you'd be in a lovely luxurious place and have to work. There's always a catch, isn't there?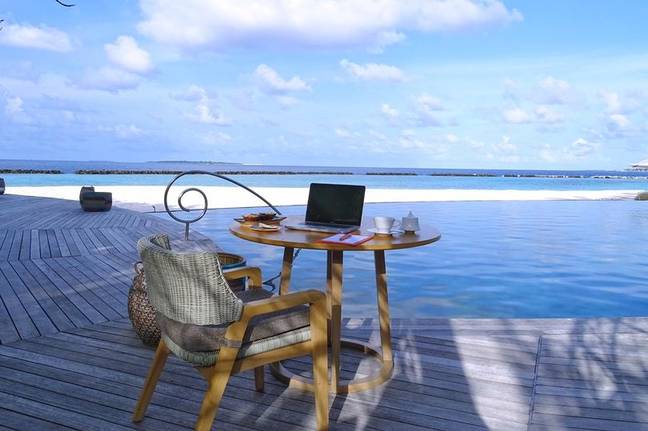 There are a whole host of other perks to The Nautilus resort's package, including a private PA working 24/7 to help you get as much done as possible, a butler service to keep you in cups of coffee - no more arguing about the brew round - and a daily yoga session to keep you nice and loose.
Then, of course, there's the view.
On your lunch, you can swim in the azure seas, head off underwater for a snorkel, or just chill out and watch the world float past.
There's a spa, a sunset dolphin cruise on a luxury yacht, an outdoor cinema experience called 'Cinema Under the Stars', and a BBQ.
Honestly, if you didn't have to work it would be absolutely perfect.
It's got to be better than sitting about your house and conducting Zoom meetings in the kitchen, however.
If you've got kids to bring with you, they'll also be kept busy with a load of fun activities, and the resort offers a babysitting service on top of that.
When you're not in work, there are a number of swanky bars and restaurants to choose from around the resort, sat in the middle of the Indian Ocean.
However, there is one significant other catch to discuss on top of the fact that you'll essentially be working from paradise.
The elephant in the room? The price.
Yes, this sort of luxury comes with a hefty price tag, and basically means that your job is going to have to be pretty damn lucrative.
Workation packages at The Nautilus Maldives start at around £17,949 for seven day stays.
That, and the UK government currently discourages all but essential travel to the Maldives.
Oh well, back to the couch and the crisps.