Lad 'could have been killed' after hair dye patch test left him with third degree burns
Warning: Article contains graphic images
A student believes he 'could have been killed' when he was left with third degree burns all up his arm following a hair dye patch test.
27-year-old Jack Valentine thinks he could have suffered 'anaphylactic shock' as a result of the painful blisters that came up on his arm after his hair dye patch test.
Jack had tried out the Just For Men's Shampoo-in-Colour dye, which claims to cover grey hair in just five minutes.
He said his arm was fine after he'd washed the dye off, but the following morning he noted it felt 'ever so slightly itchy.'
Come the following morning, Jack was in 'unbearable pain' that 'felt like hundreds of maggots' were writhing under his skin.
He said: "I put a little bit on and I left it for five minutes and then I washed it off."
He noted that the product instructed the patch test to be left on for 48 hours but dreads to think what would have happened if he had followed the packaging.
"The next day I woke up, had my morning bath and it was a bit red and ever so slightly itchy," Jack explained.
"Through the day, it just got worse and it seemed to spread and then in the early hours of Monday morning, it was unbearable.
"I've had Meningitis before and I've had surgery and it's nowhere near anything that bad - it was just horrific."
He described the pain as 'relentless' and visited the Same Day Health Centre in Fleetwood, Lancashire for advice.
There, staff drained and wrapped the blisters three times in the hopes they wouldn't return.
Doctors told Jack that if he'd disregarded the patch test and put the dye straight onto his head, he 'could have been killed' or might have had to go into an induced coma due to the shock his body would have suffered.
Jack has had two allergic reactions before - one to a henna tattoo at the age of six and one to another hair dye, which is why he decided to go ahead with the patch test.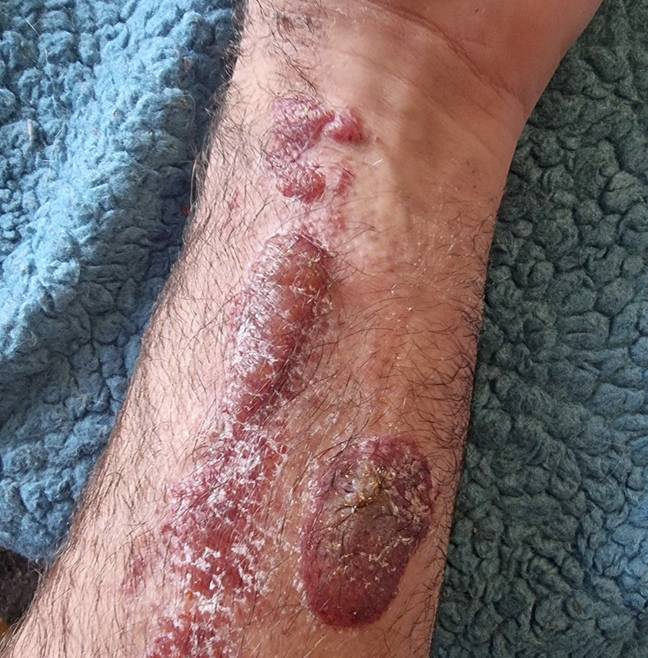 He explained: "I tried to dye my hair when I was 15 and I put that straight onto my head. I ended up in hospital on steroid injections and tablets as my head just went like a balloon.
"So I though I would try now because it's been 12 years to see if it worked and it really didn't."
Jack hopes that his experience encourages other young people to do a patch test before dying their hair, saying that the risks are just 'not worth it'.
Just For Men have been contacted for comment.