Former undercover police officer says cannabis legalisation is 'inevitable' and hopes UK adopt policy in next seven years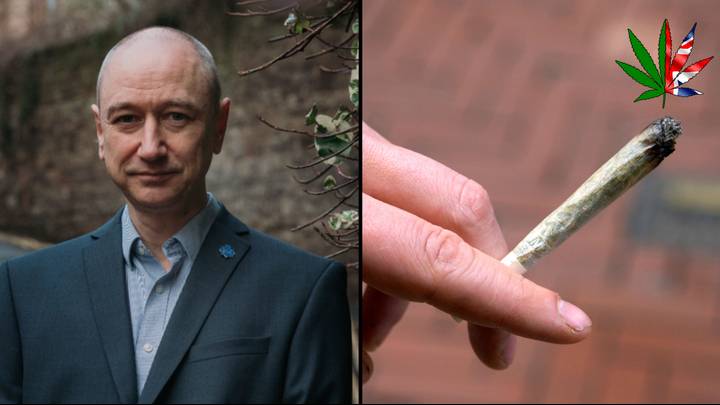 A former undercover police officer who spent 14 years working to fight organised crime and drug dealers claims that full cannabis legalisation is 'inevitable'.
Neil Woods spent many years of his life living alongside some of the country's most violent and dangerous criminals, infiltrating gangs and bringing their kingpins to justice.
His ultimate goal is to reform drugs policy, end drug prohibition and 'get tough' drugs policing, which he claims currently only serves to 'sharpen the sword of organised crime'.
Cannabis is currently a Class B drug in the UK, but there have been calls from some members of the law enforcement community to raise that classification to Class A, the same as heroin, cocaine, and MDMA.
However, Woods argues that full control of all drugs – including cannabis – would be helpful in stopping the criminalisation of addicts, and reducing the effectiveness of powerful organised gangs.
"It is often the same people [advocating for an increase in classification] who would advocate for a relaxing the regulations around alcohol and other things, so it is an interesting comparison," Woods tells LADbible.
"There's a few things going on here, most primarily at the moment is that it's a political football.
"It's a way to bash the opposition, it's a way to appear tough.
"At the moment, politics is in a complete mess, and trying to appear tough seems to be the way out from certain peoples' points of view.
"We have this 'get tough' and 'get tougher' approach, and that has led to use having higher drug deaths, we have less harm reduction, and we also have 'county lines' child exploitation.
"This child exploitation crisis that we have, it doesn't happen in France, it doesn't happen in the Netherlands, it doesn't happen in Switzerland, because they have more of a health-based approach,
"We are doing this to ourselves, and we need to realise that and change direction drastically."
But he says the heavy-handed approach of politicians and some police forces is quickly falling out of step with public opinion.
Research carried out in 2022 by the cross-party Parliamentary Group for Drug Policy Reform found that a majority of people (49 percent for vs 27 percent against) support cannabis legalisation.
For Woods, this shows that the writing is already on the wall with regards to 'controlling' cannabis, but he also voices concern about how that control must be regulated.
"It's definitely inevitable," he continues.
"That's one of the frustrating things, because it is inevitable and we need to get ahead of the game here.
"Germany is about to go legal. It's the biggest economy in Europe and this is big business.
"This is a lot of business that is going to be taken from organised crime and channelled into legitimate business ventures.
"The [UK] government is looking for new exports and new business development with the Brexit hangover, this is such – and I hate to use the phrase – but it's such a no-brainer."
Despite the opportunity, though, Woods believes there are hurdles that will have to be overcome.
He said: "What concerns me is that when we do go legal, when we have a legal regulated market, it needs to be done right.
"Racism is in the DNA of our drugs policy, it's always been used to persecute minorities, and it is the marginalised section of our community that needs to benefit from this new green rush.
"We have lots of examples of it done badly, so California where it's just the worst form of capitalism, and examples where it's done really well, like in New York State, for example.
"They've given licences to people from marginalised communities, they've given start-up grants to people who have been affected by prohibition, who have criminal convictions, so that they can take part in this new emerging business opportunity.
"They are basically investing in Black communities, those communities that have been the most affected, and that's what we need to be doing in this country."
For the ex-copper, any legislation to create a legal market for drugs must also aim to wipe out these illegal enterprises, meaning competition is key.
He explains: "The big mistake they made in Canada is that they priced it [cannabis] at twice the price of the illicit market price.
"So, as a result, they've only got 60 percent of the market. Now, that's still a win because it's 60 percent less money going into organised crime, however, we need to do better."
Given the public opinion on cannabis, as well as the path other countries have chosen, Woods hopes that the UK's drug policy will see significant reform in the coming years.
He said: "I think seven years [until a legal market] for cannabis in the UK, because I think it will happen in the next parliamentary session.
"Halfway through that session we will have had the evidence from Germany, the economic benefits will be there, the movement across Europe will have grown more, we will have more legal jurisdictions."
It's Woods' time in the police that made him so determined to wipe out organised crime, although he admits that he took some time coming around to his current position.
"We are a rapidly growing movement around the world of police and law enforcement who want an evidence-based policy," he explained.
"I followed the evidence, but I was quite slow on the uptake.
"It took me a few years to face up to the evidence that I was seeing before my eyes and it became quite clear that I was only causing harm.
"I was causing harm to individuals who just want to use different drugs, but I was also causing harm to society by refining the ruthlessness of organised crime.
"That's what drugs policing does, it sharpens the sword of organised crime."