French-Canadian Sniper Shuts Down Claims He's Been Killed With Taunting Message To Russians
The sniper, known only as 'Wali', recently left his wife and infant child behind in Canada to answer Ukrainian president Volodymyr Zelenskyy's call for foreign fighters to join the resistance.
After rumours began to circulate online that he had died, Wali has revealed he had simply been in 'black-out mode', having spoken out to prove he is still fighting the good fight.
In an interview with Canada's Global News, Wali said he is not only 'alive', but also 'well-fed, rested and all good'.
Speaking from the Kyiv region, he explained: "I was the last person to learn the news that I was dead. I think it's just trolling.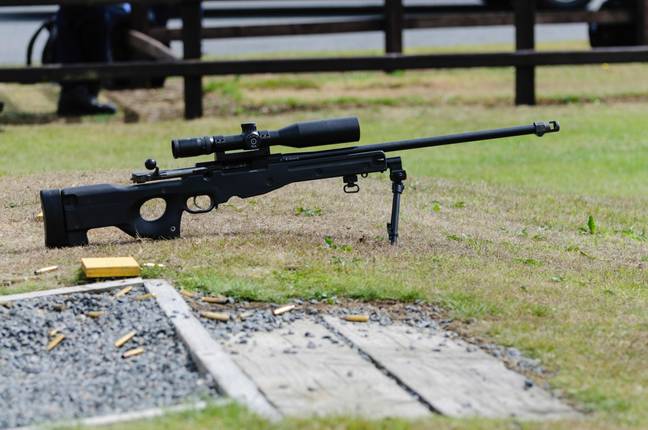 "But I think it's strange because after a while the enemy will lose credibility with this propaganda. I don't understand why they push such lies.
"It's pretty obvious because after a few days I'm popping out and telling everyone I'm alive."
Wali even posted a picture of himself in a ball pit on his Facebook page to debunk the rumours of his death, writing: "I am alive. For proof, here I am in the position of a super tactical sniper special forces commando warrior in a ball pool
"The rumours that I died in the fight were completely ridiculous."
Wali admitted there had been a few close calls over the past week, saying he had been inside a house when Russians shot at the room beside him with shells from a tank, adding that he was 'lucky'.
"This war is like playing chess without knowing what the other pawns are," he told Global News.
"You know a bit but not enough. We got engaged with the Russians in very close distance, like 50 metres, and at that point they knew we were there."
Wali said he believes attacks by Russian troops have not been sophisticated, and that the 'whole war effort is amateur'.
According to the expert marksman, Russia's fighters are 'not awesome', as they do not 'have the capabilities of NATO forces'.
"Russia is a poor country and it reflects in their weapons," Wali said.
"They destroy everything, they just keep shooting at houses again and again.

"One night, the Russians were shooting hundreds of shells not far from us. At one point, I was enjoying the view and thought, 'What a beautiful sunset.' But then I realised that these are houses burning."
Following a viral post, Wali had previously been named the 'best sniper in the world', but Global News reports that the claim he took the world's longest sniper shot in Iraq is 'false'.
"Both Wali and special operations sources say he was never a member of JTF2 and was not present when a JTF2 sniper took the 3.45 km shot killing an ISIS operative in Iraq in 2017," the outlet said.
However, when asked to set the story straight about his infamy - and the commentary that he was the deadliest marksman out there - Wali said: "I'm just a normal soldier. I'm a good soldier, no doubt about it. But I'm a good soldier among other good soldiers."
As a warning to Russia, he added: "Maybe the next time [the Russians] say that I'm dead it might be true but no one will believe them."
If you would like to donate to the Red Cross Emergency Appeal, which will help provide food, medicines and basic medical supplies, shelter and water to those in Ukraine, click here for more information.