The 18-year-old was cleared of two charges of murder and one of attempted murder following a three-week trial today (19 November).
And U.S. Attorney Joyce Vance has now said that she believes the deciding moment of the trial came during the testimony of Gaige Grosskreutz, 27, a volunteer medic who was injured by Rittenhouse.
She told MSNBC: "The prosecution's real problems began when one of their key witnesses, the victim who survived, took the witness stand, and he essentially on cross-examination conceded self-defence.
"He talked about the fact that there was a gun in his hand.
"The prosecution tried to argue their way out of that situation, but I think the die was cast in a significant way at that point."
Just 17 at the time, Rittenhouse travelled from his home in Illinois to Kenosha, Wisconsin, last year, after protests broke out following the shooting of a black man, Jacob Blake, by a white police officer.
Rittenhouse took his AR-style semi-automatic rifle with him, which, according to his lawyers, he believed would be taken away and used against him.
He shot and killed Joseph Rosenbaum, 36, and Anthony Huber, 26, and wounded Grosskreutz.
In his first interview since testifying in the trial, Grosskreutz told Good Morning America: "To me, it seemed like a child who just gotten caught doing something that he wasn't supposed to - more upset that he was caught and less upset about what he had done and what he had taken and the numerous lives that he affected through his actions that night."
However, following a three-week trial, the 12-person jury found the teenager not guilty on all counts after three days of deliberation.
During the hearing today (19 November), Rittenhouse broke down in tears as the verdict was read out.
Judge Bruce Schroeder told the court: "The charges against (the) defendant on all counts are dismissed with prejudice and he's released from the obligation of his bond."

Speaking last week, Rittenhouse broke down in tears as he told the jury how, in the moments leading up to him shooting and killing Mr Rosenbaum, he was threatened twice by the man.
Rittenhouse recalled: "He screamed, 'If I catch any of you f***ing alone, I'm going to f***ing kill you'.
"The second time he said 'I'm going to cut your f***ing hearts out and kill you N-words'."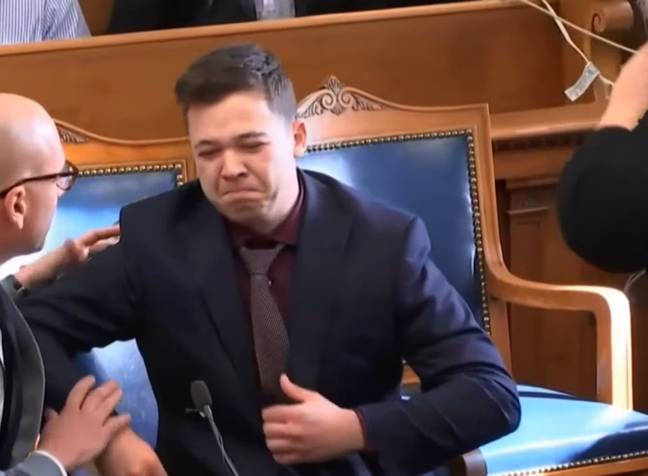 He went on to claim that he later ran towards a car dealership, which he said he was trying to defend from protesters, and that Mr Rosenbaum "came out from behind the car and ambushed me".
During the trial, the jurors were shown drone footage of the fatal shooting, where Mr Rosenbaum could be seen being shot at close range.
The video showed Rosenbaum following Rittenhouse, before Rittenhouse suddenly spun around and fired his rifle at him.
Rittenhouse then killed Mr Huber, a 26-year-old protester seen hitting Rittenhouse with a skateboard in a video filmed by a bystander.