Moment Kyle Rittenhouse Bursts Into Tears After Not Guilty Verdict
Kyle Rittenhouse has been found not guilty following his murder trial. Watch the moment he received the verdict:
The 18-year-old was cleared of two charges of murder, one of attempted murder and two of reckless endangerment during riots in Kenosha, Wisconsin, last year.

Just 17 at the time, Rittenhouse travelled to the town from his home in Illinois after protests broke out over the shooting of a black man, Jacob Blake, by a white police officer.
Rittenhouse took his AR-style semi-automatic rifle with him, which, according to his lawyers, he believed would be taken away and used against him.
He shot and killed Joseph Rosenbaum, 36, and Anthony Huber, 26, and wounded volunteer medic Gaige Grosskreutz, 27, who testified against him.
But following a three-week trial and three days of deliberation, the 12-person jury found the teenager not guilty on all counts.
During the hearing today (19 November), Rittenhouse broke down in tears as the verdict was read out.
Judge Bruce Schroeder told the court: "The charges against (the) defendant on all counts are dismissed with prejudice and he's released from the obligation of his bond."

Speaking last week, Rittenhouse broke down in tears as he told the jury how, in the moments leading up to him shooting and killing Mr Rosenbaum, he was threatened twice by the man.
Rittenhouse recalled: "He screamed, 'If I catch any of you f***ing alone, I'm going to f***ing kill you'.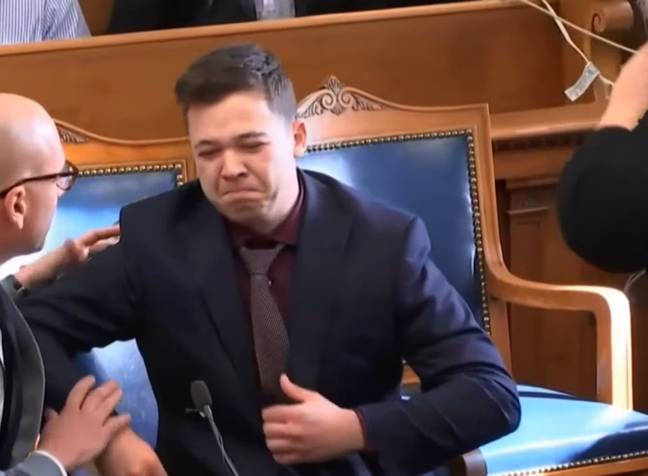 "The second time he said 'I'm going to cut your f***ing hearts out and kill you N-words'."
He went on to claim that he later ran towards a car dealership, which he said he was trying to defend from protesters, and that Mr Rosenbaum "came out from behind the car and ambushed me".
Rittenhouse then killed Mr Huber, a 26-year-old protester seen hitting Rittenhouse with a skateboard in a video filmed by a bystander.

In his opening statement, prosecutor Thomas Binger described the unrest as 'two of the roughest nights that our community has ever seen', and said outsiders were drawn to Kenosha 'like moths to a flame'.
Yet Binger repeatedly stressed that amid the hundreds of people in Kenosha, and the anger and chaos in the streets, 'the only person who killed anyone is the defendant, Kyle Rittenhouse'.
Rittenhouse claimed he went to the city to protect property after two nights of rioting.
And his lawyer, Mark Richards, told the jury that his client acted in self-defence as one of the men dove for his gun while others kicked him in the face and clubbed him in the head with a skateboard.
During the trial, the jurors were shown drone footage of the fatal shooting, where Rosenbaum could be seen being shot at close range.
The video showed Rosenbaum following Rittenhouse, before Rittenhouse suddenly spun around and fired his rifle at him.